What is at Stake in China-Bhutan Boundary Negotiations?
Publication: China Brief Volume: 22 Issue: 3
By: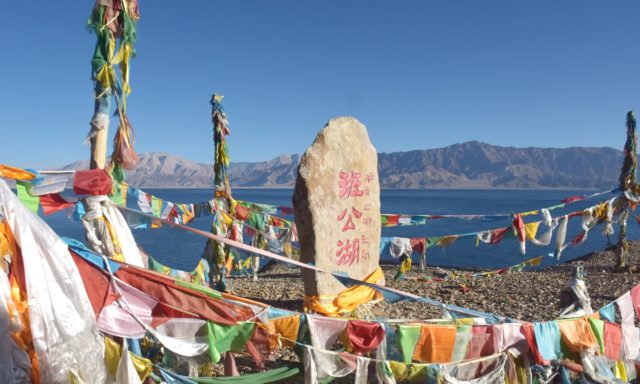 Introduction 
Satellite imagery reveals that China has recently accelerated construction along its border with Bhutan. Underway since 2020, the project includes over 200 structures, with several two-story buildings in six locations (Times of India, January 13). Bhutan has not commented on the situation in keeping with its policy to refrain from public discussion of border issues, whereas Beijing has framed the development as "normal construction activities on its own territory" (The Hindu, January 13). India's Ministry of External Affairs (MEA) has acknowledged that it is monitoring China's bridge-building activities over the Pangong Tso lake (India MEA, January 6). In late December, China's Ministry of Civil Affairs announced the "standardization" of the names of 15 places (eight residential areas, four mountains, two rivers, and one mountain pass) in the Northeast Indian state of Arunachal Pradesh that China also claims and calls "Southern Tibet" (藏南, Zangnan). This is the second instance of China renaming localities in Arunachal Pradesh; the first occurred in 2017 (Global Times, December 30, 2021). India called it a "ridiculous exercise to support untenable territorial claims" (Indian MEA, January 6).
Though 2022 has only begun, China's various intimidation tactics against India are already in full swing: from renaming places and circulating videos of People's Liberation Army soldiers raising the five-starred red flags of China, supposedly, in the Galwan Valley as part of their New Year celebrations, to expanding its dual use infrastructure along the Himalayan border (Global Times, January 1; The Print, January 13). According to state media, China has been strengthening infrastructure-related projects in the Tibet Autonomous Region (TAR). Beijing claims its infrastructure push in Tibet is intended to support economic development, but the Indian side interprets the projects as serving dual use, or, military purposes (China Brief, November 19, 2021). While Chinese sources claim that India was making a "fuss," they did not, however, entirely deny these reports (Global Times, January 19).
The People's Republic of China's (PRC) mounting pressure against India, which includes creating psychological pressures through various mind games, are particularly significant to facilitate the implementation of China's new land border law that came into effect on January 1. The new law authorizes China's military and police forces to take all necessary measures to protect China's sacred and inviolable sovereignty and land boundaries (China Brief, December 17, 2021). To make matters worse, the 14th round of India–China Corps Commander Level Meeting collapsed yet again on January 12, and no date has been announced for the next round of talks (India MEA, January 13).
The Memorandum of Understanding (MoU) on a Three-Step Roadmap for Expediting the China-Bhutan Boundary Negotiation signed between China and Bhutan in a virtual signing ceremony on October 14, 2021, must be considered in the context of this fragile and potentially explosive situation (PRC Ministry of Foreign Affairs (FMPRC), October 15, 2021). With regard to this MoU, several questions arise: What is the future of China–Bhutan diplomatic ties? What implications a stronger Sino-Bhutanese ties leaves for India, and especially for China-India boundary negotiations?
The Three-Step Roadmap: An Overview 
Bhutan is the only neighboring (Himalayan) country that does not have formal diplomatic ties with the PRC [and also with the Republic of China (ROC)/Taiwan]. Despite this, Bhutan voted for the United Nations General Assembly Resolution 2758, "Restoration of the Lawful Rights of the People's Republic of China in the United Nations," in 1971, which recognized the PRC as the sole legitimate government of China and expelled the ROC from the UN (UN Digital Library, 1971). Bhutan supports the "One China Policy" and engages with China on a number of cultural exchanges, trade, and tourism. The two sides also cooperate on issues of common interest in the UN and other international forums and have maintained diplomat-level exchanges through the years, liaising via their respective embassies in Delhi (Foreign Policy of the Kingdom of Bhutan; China Daily, July 30, 2018).
Past record suggests that China and Bhutan only began bilateral boundary demarcation talks in the 1980s. Prior to that time, Bhutan was somewhat subsumed under the umbrella of China-India diplomacy. Following the first China-Bhutan boundary talks in 1984, the two sides signed the "Guiding Principles on the Settlement of the Boundary Issues" in 1988 and the "Agreement on Maintenance of Peace and Tranquility along the Sino–Bhutanese Border Areas" in 1998. These two agreements form the basis for the ongoing boundary negotiations between Beijing and Thimphu (Bhutan News Online, January 30, 2005; PRC Embassy in India, April 10, 2021). Between 1984 and 2016, the two sides conducted 24 rounds of boundary talks and nine expert group meetings (EGMs), which focused on the disputed India–China–Bhutan tri-junction (about 269 sq. km) and the valleys in Bhutan's northern region (near Tibet; about 495 sq. km). However, the dialogues were halted following the Doklam standoff between China and India that involved Bhutan too, which started in June 2017 when the Chinese Army started constructing a "road from Dokola in the Doklam area toward the Bhutan Army camp at Zompelri" (The Hindu, October 14, 2021; Bhutan Ministry of Foreign Affairs (MFA), June 2017). During the crisis, India was concerned with China making inroads into the tri-junction area, which is strategically important due to its proximity to the Siliguri Corridor, also called "Chicken's Neck," a vulnerable point for India.
In April 2021, talks resumed with the 10th EGM in Kunming. The two sides agreed on a Three-Step Roadmap that would build on the 1988 Guiding Principles, as well as to hold the 25th round of talks and 11th EGM at the earliest possible juncture (PRC Embassy in India, April 10, 2021). In October 2021, China and Bhutan signed the MoU on the Roadmap, however the full details of the agreement have yet to be made public (Bhutan MFA, October 14, 2021). Implementation of the agreement is expected not only to provide a "successful conclusion" to boundary talks but also boost the prospects for China-Bhutan diplomatic ties. India has reacted cautiously by officially stating it has "noted" the development (Bhutan MFA, October 14, 2021; India's MEA, October 14, 2021).
Will Improved China-Bhutan Ties Cost India?
For China, the signing of the Three-Step Roadmap with Bhutan is of "historic significance" and a diplomatic victory over India, which was largely excluded from the negotiation process. The outcome is particularly satisfying for Beijing, which had taken the 2017 Doklam crisis as a loss of face to New Delhi and the "reason for the delay" in Sino–Bhutanese border negotiations (China Daily, October 15, 2021). The Chinese side has already indicated that the MoU will promote the establishment of diplomatic ties between China and Bhutan. However, Bhutan has not mentioned diplomatic normalization, but has called for strengthening bilateral relations (PRC MFA, October 15, 2021). Beijing's push for official diplomatic relations with Bhutan is not new. In 2012, China and Bhutan expressed willingness to establish formal diplomatic ties, which expectedly created a strategic fissure in India–Bhutan relations (The Bhutanese, June 2012).
Furthermore, the MoU will be "exchanged between the two sides through diplomatic channel;" in the absence of direct diplomatic ties and with the liaison offices based in New Delhi, it is unclear whether the protocol would require India's inclusion (Bhutan MFA, October 2021). "Sacred" Bhutan–India ties are based on the 1949 Perpetual Peace and Friendship Treaty. However, the treaty was revised in 2007, and among the revisions was the exclusion of Article II, wherein Bhutan was bound by India's guidance in regard to its external relations (India MEA, August 1949; MEA, March 2007; The Times of India, July 11, 2013). Bhutan has so far chosen a policy of neutrality concerning its two powerful neighbors, and any change in its present stance would not bode well for India at a time when Beijing is looking to apply its recent land border law and establish new settlements in border areas (Xinhua, October 23, 2021).
China's Bhutan Calculus: Limiting India's Negotiating Power?
Undoubtedly, China's advances in the border areas and its growing amity with Bhutan are both directed at India. Even as it was pursuing the MoU, China was also busy claiming Bhutan's eastern Sakteng region. Bhutan issued a demarche to the Chinese Embassy in India over the PRC's claim, stating that "Sakteng Wildlife Sanctuary is an integral and sovereign territory of Bhutan" (The Week, July 7, 2020). This is an extension of Beijing's recent border politics with India, namely seeking to strengthen its military presence and logistical support while continuing to engage via economic and diplomatic channels. China's use of such tactics, however, undermine the border resolution negotiation processes that India and China have been engaged in since the Galwan crisis in 2020. For instance, even as the two countries held the 23rd Working Mechanism for Consultation and Coordination on India–China Border Affairs, Beijing was reportedly expanding military and civilian facilities in TAR (India's MEA, January 17, 2012; Hindustan Times, February 8, 2021; India's MEA, November 18, 2021).
Indian media reports that China's new map includes Arunachal Pradesh, the Barahoti Plains in Uttarakhand, and regions in Ladakh. According to its new land border law, these places are now deemed Chinese sovereign territory (The Print, November 11, 2021). Clearly, India's middle sector in Uttarakhand and Himachal Pradesh also faces an imminent threat. In August 2021, more than 100 Chinese troops transgressed into Indian territory through the Barahoti border area, despite India and China having exchanged Line of Actual Control (LAC) maps for the middle sector almost two decades ago (The Economic Times, September 28, 2021; India's MEA, June 29, 2001). Such renewed land-grabbing attempts negate "the principles of equality, peaceful coexistence, and win-win results" that the MoU is meant to honor and strive to re-balance the status quo in the Himalayan region (China's MFA, October 15, 2021).
Implications for Bhutan–China–India Tripartite Border Negotiations in 2022
India and Bhutan have maintained a strong, decades-long relationship. India is Bhutan's largest trading partner. In 2020, bilateral trade with India accounted for 82.6 percent of Bhutan's total trade and the two countries revised their ten-year Bilateral Agreement on Trade, Commerce, and Transit last year (India's MEA, 2021). Both India and Bhutan have sought to strengthen their relationship through multilateral regional frameworks as well as hydropower and connectivity projects. However, traditional ties have not brought about sufficiently close bilateral coordination on strategic issues—an area of concern for India amid the current geopolitical volatility.
During the 2017 Doklam standoff, India underscored a written agreement it had reached with China in 2012, which was finalized between Indian representative Shivshankar Menon and Chinese representative Dai Bunguo. The agreement states that the tri-junction boundary between India, China, and third countries would be "finalized in consultation with the concerned countries. Any attempt, therefore, to unilaterally determine tri-junction points is in violation of this understanding" (India's MEA, June 30, 2017; The Wire, June 30, 2017). In light of this statement, India's exclusion from the China–Bhutan boundary demarcation process is a violation of the 2012 agreement, especially as it impacts India's northeastern border states. China has repeatedly blamed the unrest in these states on "years of neglect by the Indian government," stating that India's "source of fear" lies in its "soft underbelly," a reference to India's northeastern territory (Xinhua, April 2014; The Hindu, April 7, 2014; Cnhubei, October 15, 2021).
When viewed in the evolving political context, including the new Chinese land border law and the China-Bhutan MoU, Beijing's decision to rename places in Arunachal Pradesh, which could offer a connectivity base with Bhutan and access to Southeast Asian markets, is a definite concern for India that goes beyond idle speculation. In its 1996 "package deal" offer to Bhutan, Beijing promised to exchange territory in central Bhutan for Doklam. China reiterated the "package solution" in 2020, which most likely included similar conditions (The Economic Times, July 21, 2020; China Brief, April 20, 2017). So far, Bhutan has not accepted the Chinese offer. However, Bhutan may find it difficult to maintain its neutral stance, which traditionally has tilted toward India, given the new, promising MoU development, China's continued military buildup along the Himalayan border, and India's hard-pressed position along the LAC that limits its ability to protect Bhutanese interests.
Thus, looking ahead, the China-Bhutan MoU will have significant implications for the China–India boundary issues particularly considering the ongoing stalemate between the two over the LAC deadlock in the western sector, and China's continuation of assertive tactics. In order for India to respond China's strategic play in the Himalayas, it will be important for New Delhi to carefully recalibrate its policy toward Bhutan. Will the China-India boundary talks face potential repercussions if the China-Bhutan talks have a positive outcome? The answer will depend both on India's diplomatic approach to ties with Bhutan and its ability to limit China's attempts to reshape the regional status quo.
Dr. Jagannath Panda is a Research Fellow and Centre Coordinator for East Asia at the Manohar Parrikar Institute for Defence Studies and Analyses (MP-IDSA), New Delhi. He is the Series Editor for "Routledge Studies on Think Asia". Dr. Panda is the Co-Editor/Author of the forthcoming book "Chinese Politics and Foreign Policy under Xi Jinping: The Future Political Trajectory" (Routledge, 2020).