Will Russia Cry for Argentina, or Will Argentina Cry for Russia?
Publication: Eurasia Daily Monitor Volume: 11 Issue: 207
By: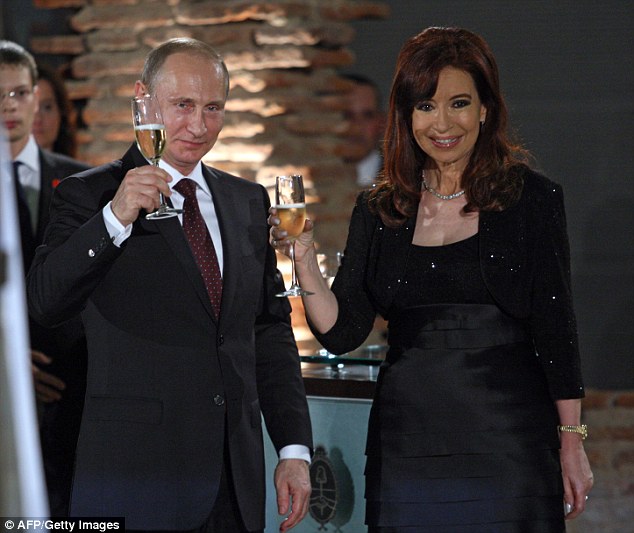 In recent years, Russia has been clearly trying to expand its foreign policy reach in Latin America (see EDM, May 2, July 22). This was especially evident during President Vladimir Putin's grand July 2014 tour of the region on the heels of the BRICS (loose grouping of emerging economies Brazil, Russia, India, China and South Africa) summit in Fortaleza, Brazil (see EDM, July 14). Since then, Moscow has attempted to forge an increasingly close relationship with Argentina.
In October, the Russian government–funded news/propaganda television channel RT started broadcasting in Argentina, in Spanish, thanks to an inter-state agreement. For Putin, if not also for Argentina's President Cristina Kirchner, RT is clearly a weapon in the global information war, which Putin sees being waged against Russia (Interfax, October 10). As if to signify that the channel would present only officially sanitized reporting, RT removed a report it had published in 2012 that criticized President Kirchner for selling Argentina's "invaluable" natural resources at bargain prices (Interfax, October 14). Kirchner clearly wants to interest Russia in buying Argentina's natural resources to offset the demands from US creditors for full payment on their state bonds and investments. Therefore, the presence of such a report represented a serious embarrassment to both governments (rigzone.com, Interfax, July 10; FT, July 11).
The advent of Russian soft power in Argentina betokens more than just the appearance of a key Russian "media" instrument. La Nacion has reported that the Argentine government is prepared to move ahead with a plan to downgrade its relations with the United States and the European Union while deepening its strategic alliances with Russia and China—and this is clearly due to the pressure from US bondholders. For example, Moscow and Beijing will enjoy priority in Argentine investment plans, especially vis-à-vis new nuclear power plants. These Russian and Chinese investments will maintain "the illusion of wellbeing" by further sales of energy or via development deals rather than through undertaking long-term planning (La Nacion, October 14). Previous reports had already indicated a burgeoning Argentine-Chinese partnership regarding nuclear energy (Telam Online, September 23).
These latest agreements illustrate something different from just regular major communications, energy or development deals, which Russia has also pursued regionally in the past. Rather, it represents Russia's use of soft power in the form of media and investment leverage in energy or other key sectors in order to sustain an increasingly anti-democratic media-state relationship in key Latin American countries. Apart from Argentina, other countries following this pattern are Venezuela and Ecuador, both recipients of Moscow's solicitude (see EDM, May 2, 2014; March 10, 2010). This policy pattern typifies Moscow's efforts in many parts of the globe to ensure lasting leverage and influence over such targeted countries' own policies. Indeed, the use of investments in energy and other key sectors, coupled with influencing authoritarian media takeovers by state organs, are long-standing instruments and/or tactics in Russia's foreign policy. Thus Argentina should not be seen as an exceptional case.
Increased foreign policy coordination between both governments can be expected as well. Already, Russia moved to support the final creation of a Palestinian State at a United Nations Security Council vote in October 2014, while Argentina served as the international body's rotating chair (Clarin, October 12–15). Moscow has also announced its support for Argentina's position on the Falkland Islands as a way of currying favor in Buenos Aires while simultaneously attacking the United Kingdom (Merco Press, March 26). And in a broader context, Foreign Minister Sergei Lavrov has insistently pointed to the congruence of Russian and Argentine foreign policy positions (Ministry of Foreign Relations of the Russian Federation, May 29).
Clearly this bilateral relationship is likely to grow over time as the two governments seem to share a mutual interest in striking out against the US, the UK and the EU. Therefore, Russia's profile in Argentina's media, energy and foreign relations can be expected to expand. Indeed, some think that Russian military bases may already exist in Argentina, as some reports have previously alleged (Jane's Defence Weekly, March 4). These growing inroads into Argentina add to Russia's profile throughout Latin America and provide Moscow with a base of operations for both overt and covert activities throughout the Western Hemisphere—whether or not Russia actually acquires a military base there. And this trend is likely to lead to even more increased Russian cooperation with other regional countries hostile to the United States, such as Cuba, Venezuela and so on.
Although Moscow probably cannot afford to bail Argentina out of its self-induced economic difficulties, it can certainly exploit that arduous situation for its own benefit, as it is doing across Latin America. The heretofore US disregard of Russian policies in the region has already had some profound negative consequences for Washington. And further such malign neglect could well make Moscow's ongoing presence in the Western Hemisphere felt in even broader and deeper ways.