With 'Azov Debacle' as Pretext, Russia Further Militarizes Crimea and Obstructs Passage Through Northern Sea Route
Publication: Eurasia Daily Monitor Volume: 15 Issue: 170
By: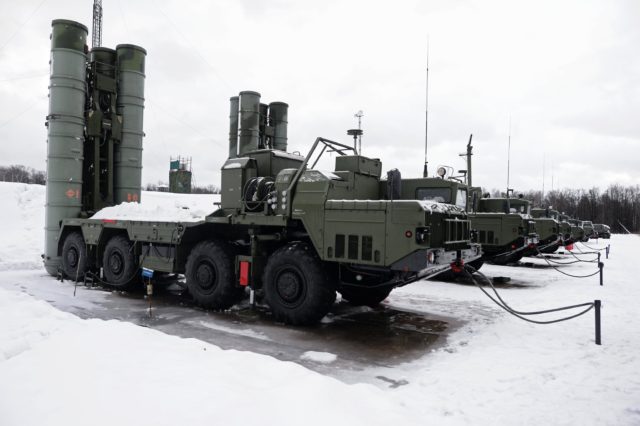 The November 25 "incident" in the Black Sea involving Russia's illegal seizure of three Ukrainian military vessels and their personnel—in actuality, an explicit violation of the norms of international maritime law (see EDM, November 26, 28, 29)—has become a "legitimate" pretext for Moscow to conduct sweeping offensive activities in two strategic theaters: Crimea and the Arctic region.
The first set of measures (both immediate and to be accomplished in a short-term prospect) pertains to the resumed further militarization of Crimea:
– Bolstering of medium- and long-range anti-aircraft/missile defense capabilities. On November 29, Russia declared it was deploying S-400 Triumf anti-aircraft systems (capable of destroying targets up to 400 kilometers away and flying at an altitude of up to 30 km) in Dzhankoy (northern Crimea, 20 km from the de facto border with mainland Ukraine) (Allcrimea.net, November 29). Including Feodosia, Sevastopol and Eupatoria—where S-400 complexes were deployed in September (Krymr.com, November 28)—there are now four locations in Crimea equipped with this formidable weapon. Russian political scientist Andrey Ivanov called this move "a remedy against hot heads both in Ukraine and in the West," specifying that "the West has never been sentimental with countries that have a weak system of anti-missile/aircraft defense." Namely, he mentioned Yugoslavia (1999) and Iraq (2003) to support his thesis. He also stated that "the trick did not work in Syria" primarily because of Russia's savvy move to increase the Syrian military's anti-missile capabilities (Infox.ru, November 28). In addition to this step, on November 30, the Russian side deployed another division of the Pantsir-S1 self-propelled medium-range surface-to-air missile systems (RIA Novosti, November 30).
– Boosting coastal defenses. On November 28, volunteers of the Ukrainian "Come Back Alive" foundation traced Russian transports of additional pieces of the Bal coastal-defense missile system to the Crimean peninsula (UNIAN, November 28). Equipped with the Kh-35 anti-ship turbojet subsonic cruise missile (120 km striking range), the Bal complex is designed to ensure denial of entry on a tactical level. When combined with the Bastion systems previously deployed to Crimea (RIA Novosti, September 19, 2017), Russia is ensuring coastal-protection capabilities within a range of 120–200 km. And crucially, after Russia demonstrated the Bastion system's capability to destroy land-based targets in Syria in 2016 (RIA Novosti, November 15, 2016), it would be safe to suggest that those same weapons based in Crimea may be able to hit land targets up to 450 km away inside Ukraine.
– Increasing Electronic Warfare (EW) capabilities. On November 29, Russian officials noted that a Voronezh-M early-warning radar (operating in VHF band) would be deployed to the Crimean peninsula in 2019. The Voronezh-M is capable of detecting ballistic missile launches and the flight of cruise missiles up to 3,500 km away. It will "replace the Dnepr radar, and profoundly increase Russia's military capabilities" in terms of early-warning and detection capabilities (Interfax, November 29, 2018).
– Building up strategic and tactical aviation power. Russia previously began the modernization of the Belbek airport—which, upon completion, is expected to become capable of receiving strategic bombers such as the Tu-95, Tu-160 and Tu-22M (Crimea.ria.ru, August 15). And on November 30, the Russian side additionally deployed a number of the super-maneuverable Su-27 and MiG-29 fighter aircraft (Espreso.tv, November 30), thereby increasing the tactical-operational capabilities of Russian forces located in Crimea.
– Increasing naval potential. Also on November 30, Vice Admiral Alexander Moiseyev, the commander of the Russian Black Sea Fleet, stated that as early as next year, the fleet will receive 13 new vessels equipped with Kalibr anti-ship and land-attack cruise missiles (Tvzvezda.ru, November 30). This deployment will significantly upgrade Russia's current conventional high-precision strike capabilities in the region.
Together, the above-mentioned measures (some already implemented) will dramatically increase the defensive and, to some extent, counter-offensive capabilities of the Russian forces currently stationed in Crimea. After 2019 (upon the prospective deployment of the Voronezh-M radar), the only piece left for the peninsula to acquire all essential qualities of a classic Anti-Access/Area-Denial (A2/AD) "bubble" (in Russia's reading of this concept) will be the nuclear-capable Iskander-M ballistic-missile complexes. Iskanders would potentially add further offensive qualities to "fortress Crimea" (see EDM, November 14, 2017). Currently, Russia's military-strategic calculations continue to consider Crimea as a defensive base—though, one capable of, if necessary, some counter-offensive operative tasks.
Interestingly, in addition to the announced deployments to Crimea, the Arctic region has become another key theater for Russia's decisive actions that were spurred on by the November 25 naval clash with Ukraine. On November 30, authorities stated that, starting from 2019, "not a single foreign military vessel, including submarines, will be permitted free passage through the Northeast Passage" without prior warning and consent granted by the Russian side (Topwar.ru, November 30).
It is essential to note that the main portion of the 5,500-kilometer-long trans-Polar Northeast Passage is located in Russia's territorial waters—the so-called Northern Sea Route (NSR). This strategic maritime transit corridor linking Europe and Asia winds past 50 ports in the Russian High North. The route is viewed by the Russian side as the backbone of its future joint cooperative initiatives with the People's Republic of China, within the scope of Beijing's Polar Silk Road initiative (see EDM, November 7). Thus, the Kremlin's warning to foreign navies operating in the NSR should be read as an unequivocal reminder to other parties that Moscow remains a major stakeholder in this trans-Eurasian project—with Russia's military might as the main argument (TASS, November 30).