Are Turkish-Russian Relations Again Undergoing a Transformation?
Publication: Eurasia Daily Monitor Volume: 17 Issue: 163
By: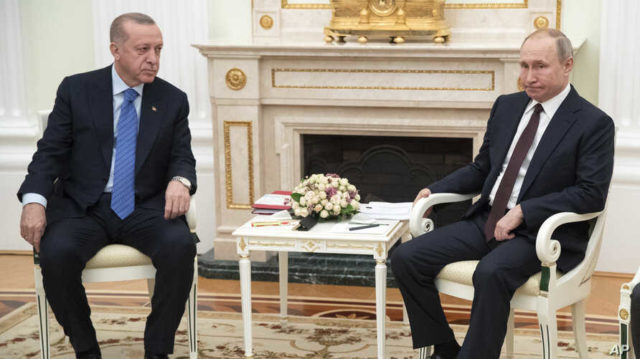 On the night of November 9–10, following 45 days of fierce fighting, the second Karabakh war ended with the signing of a five-point declaration between Azerbaijan and Armenia, under mediation from Russia (Kommersant, November 10). Azerbaijan recaptured five districts in Karabakh, as well as the Lachin Corridor connecting this region to Armenia, with Russian peacekeepers set to patrol the area for at least five years. At the same time, Turkey reached a separate agreement to establish a military observation point (similar to those it has in northern Syria) on Azerbaijan's reoccupied territory (Iletisim.gov.tr, November 10; see EDM, November 12).
The latest deadly clashes between Yerevan and Baku over Karabakh and surrounding Armenian-occupied territories began on September 27. But what made this military exchange unique—besides the Azerbaijani military's relentless drive to successfully recapture large swathes of land from Armenian forces—was the unprecedented level of military-technical and political support that Turkey offered to Azerbaijan amidst the hostilities. Indeed, this contrasted sharply with the initial Karabakh war (1991–1994), when Ankara was provided essentially no military or technological assistance to Baku (see EDM, October 13, 15, 19, November 3).
It is worth noting that Turkey did not provide similar military or technological support to Georgia during the latter's war against Russia in August in 2008 or to Ukraine when it was invaded by Russia in 2014. And this was despite the fact that Turkey has been developing military, technological, economic and political cooperation with Georgia for almost thirty years and, while its relations with Ukraine were elevated to a strategic level already in 2011 (Mfa.gov.tr, accessed November 12).
The second Karabakh war and Turkey's conspicuous behind-the-scenes involvement thus had broad reverberations throughout the former Soviet space. Notably, on October 16–17, Ukrainian President Volodymyr Zelenskyy paid a visit to Turkey with the aim of developing and strengthening bilateral military and economic relations. The two sides signed a military framework agreement and a memorandum of intent, which provide opportunities for developing deeper military and technical cooperation in areas such as intelligence sharing, Black Sea security and unmanned aerial vehicles (see EDM, October 29, November 16). The outcomes of this visit and accompanying statements by Turkish President Recep Tayyip Erdoğan and Foreign Minister Mevlüt Çavuşoğlu regarding Ukraine's inviolable claims to Crimea and Donbas resonated negatively inside Russia (TRT Haber, October 14; Milliyet, October 16; TV Rain, RT, October 17).
Meanwhile, Turkey has also been taking steps to develop ties with Russia at both the bilateral and regional levels; and Moscow has sought to reciprocate based on its own interests (see below).
The downing of a Russian warplane by Turkey, on November 24, 2015, along its border with Syria, led to a crisis in bilateral relations that lasted until the following summer, when Russian President Vladimir Putin swiftly responded to offer political support to Erdoğan in the wake of a failed coup attempt. By December 2016, the dynamics of the dialogue between Ankara and Moscow were transformed further with the establishment of the so-called Astana Process for addressing the war in Syria. Russia's recognition and acknowledgement of Turkey (along with Iran) as a counterpart and legitimate actor in Syria (despite the two backing opposing sides in the war) illustrated Moscow's and Ankara's ability to pursue cooperation and dialogue to resolve regional problems (see EDM, August 2, 2017). Then, on October 27, 2018, by organizing the Istanbul Summit with Germany, France and Russia, Turkey cemented its position as an equal of Europe and Russia when it comes to exerting influence over the Syrian conflict (see EDM, October 20, 2018). The subsequent (October 22, 2019) Russian-Turkish Sochi Agreement on northeastern Syria reaffirmed the value of bilateral negotiations to both sides and reinforced trust between them. During the Libyan civil war, Turkey and Russia again found themselves de facto on opposite sides of the conflict, with Ankara backing the United Nations–recognized government in Tripoli and Moscow quasi-covertly sending in Russian private security contractors to support Khalifa Haftar's forces. Nevertheless, the two countries sought several times to reach an accord on Libya, including at the start of 2020 (see EDM, January 30, 2020)
But now that Ankara has been pursuing a tangibly more intensive level of relations with strategic partners in the post-Soviet space, Russia and Turkey have sensed the need to develop a new joint cooperation platform. During the recent spate of violence in Karabakh, discussions developed about possibly changing the peace process for the conflict, for nearly 30 years dominated by the Organization for Security and Cooperation in Europe's (OSCE) Minsk Group, co-chaired by France, Russia and the United States. Namely, Azerbaijan proposed Turkey become a new co-chair. In turn, Turkey suggested the renewal of meetings within the Astana format (Russia, Turkey, Iran) to discuss Karabakh in addition to creating a new quadrilateral negotiation process that would bring together Turkey, Russia, Armenia and Azerbaijan. In expressing support for this latter framework, Azerbaijani President Ilham Aliyev emphasized that peace and stability in the region cannot exist without Turkey (Milliyet, October 15).
The conclusion of the second Karabakh war and ongoing tightening of strategic-level relations between Turkey and Georgia and Ukraine in fact encourage further regionally focused dialogue between Ankara and Moscow on matters of security and stability in Europe's East and the South Caucasus region. For Turkey, this deeper involvement finally invites the country into a region it has long considered of crucial national interest. Whereas, two main factors reinforce this incentive for Russia. First, as Putin emphasized, Turkey conducts an independent foreign policy despite the fact that it is a North Atlantic Treaty Organization (NATO) ally (Anadolu Agency, October 22). Second, Russia has not been able to build similarly pragmatic relations with the two other post-Soviet republics in the Black Sea region, Georgia and Ukraine, where Western-oriented governments came to power in so-called "color revolutions." Consequently, Moscow is much more interested in encouraging Turkish buy-in on Russian-offered solutions to regional problems. Thus, Ankara's participation in talks on Karabakh fits Moscow's broader interests; for example, Turkish involvement is more likely to pressure Armenia into staying within the Russian orbit (and under Russia's ostensible protection) over the long term. And that model, Russia surely hopes, can then be reapplied elsewhere in the region.