CIS Anti-Terrorism Center Holds First Military Exercises in Tajikistan
Publication: Eurasia Daily Monitor Volume: 14 Issue: 75
By: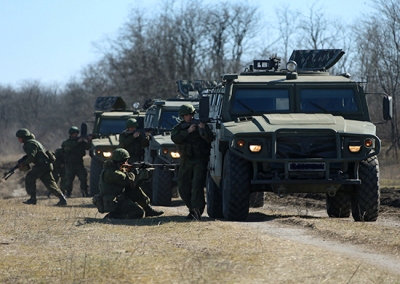 On May 30, troops from Russia and Tajikistan launched Dushanbe-Anti-Terror-2017—the final stage of a six-part exercise held in six different countries, including Kyrgyzstan, Kazakhstan, Armenia and Belarus, which began on May 23 (Avesta, May 24). Involving 2,000 personnel, the exercises concluded on June 1.
Military exercises in Tajikistan are held regularly. But unlike previous exercises organized through the Collective Security Treaty Organization (CSTO) or Shanghai Cooperation Organization (SCO), Dushanbe-Anti-Terror-2017 was held under the auspices of the Commonwealth of Independent States (CIS) Counter-Terrorism Center. These were the first military exercises organized by the Center, which was established in 2000. To date, the Center had focused on coordinating responses to terrorism through meetings and information sharing (Cisatc.org, accessed June 5).
A possible reason for the CIS's involvement was the inclusion of military personnel from Uzbekistan, which is a member of the CIS but not of the CSTO. Although Uzbekistani forces did not take part in Dushanbe-Anti-Terror-2017, they did participate in the preparatory staff exercises in April. Since the death of long-serving President Islam Karimov in September 2016, the new head of state, Shavkat Mirziyaev, has sought to rebuild ties with Russia and his Central Asian neighbors (see EDM, April 24, May 3). During his first official visit to Moscow, in April 2017, President Mirziyaev signed agreements worth $12 billion (EA Daily, April 6). On April 5, the Duma ratified a bilateral agreement to make it easier for Russia to supply Uzbekistan with military equipment and repair existing hardware (Regnum, April 5). Uzbekistan's limited involvement could indicate a gradual move away from its 2012 foreign policy concept, which opposed the country's involvement in any military alliance (Gazeta.uz, July 30, 2012).
The Dushanbe-Anti-Terror-2017 maneuvers held in Tajikistan simulated an attack on "a camp of simulated terrorists based in the mountains" (ITASS [Moscow], May 31; Asia Plus, June 5). In coordination with air support and artillery, special forces neutralized the armed group. Overall, the exercise involved 300 units of military equipment (Sputnik, May 31). Earlier, Russia redeployed four Sukhoi Su-24M bombers from Shagol airbase, in the southern Urals, to Tajikistan to take part in maneuvers on May 16. During those exercises, the pilots delivered "strikes on convoys, camouflaged warehouses, training camps and other facilities of the maneuver enemy," according to Colonel Yaroslav Roshchupkin, an aide to the commander of the Russian Central Military District (TASS, May 17). More significantly, Russia also airlifted its Iskander-M ballistic missile system in for the drills. This is the first time they have been used in exercises outside of Russia. The deployment constituted a show of force and demonstrated Russia's capacity to send the system to Central Asia in an emergency situation.
The drills also signaled Russia's continuing support for Tajikistan's security. During the Tajik Civil War (1992–1997), Russian troops proved vital in backing the government and reinstating order. Russian soldiers guarded the border with Afghanistan until 2004. Tajikistan still hosts one of Russia's largest military bases outside of its borders. Based in the country since 1941, 7,000 personnel from the 201st Motorized Rifle Brigade are stationed in Dushanbe and Qurgonteppa. Russia has leased the base until at least 2042 (see EDM, October 10, 2012). Despite some mixed signals, Russia continues to be Tajikistan's primary security guarantor. In May 2015, Russia announced that it would strengthen the garrison based in Tajikistan from 7,000 to 9,000 troops by 2020, investing $1.2 billion over the next five years (Asia Plus, April 3, 2015). But in January 2016, the Russian government appeared to step back from this position, saying it would actually cut troop numbers slightly, converting the 201st Motorized Rifle Division to a brigade (TASS, January 30, 2016). Although the move cut troops on paper, it is part of a broader trend in the Russian military as it adapts to modern terrorist and insurgent threats.
Like the latest drills, other recent exercises in Tajikistan have focused on combating armed incursions by terrorist groups. Russia regularly organizes bilateral and multilateral military exercises in Tajikistan. Since 2015, it has held at least four exercises in Tajikistan. Whereas exercises in 2015 and 2016 were organized through the CSTO, the two drills held so far in 2017 have not involved the Russian-led military bloc. In March 2017, for example, 50,000 Tajikistani troops and 2,000 Russian personnel conducted bilateral counter-terrorism exercises in the south of the country (Radio Ozodi, March 28).
As Russia has stepped up its security assistance to Tajikistan, others have followed suit. China held its first bilateral military exercises with Tajikistan in October 2016 (Ozodagon, October 20, 2016). It has also funded the construction of 11 border posts on Tajikistan's frontier with Afghanistan, as well as a border guard training center (The Diplomat, September 26, 2016). The United States promised $50 million in military aid to Central Asia in 2015, with most of the money going to "key partner nation in the region" Tajikistan (EurasiaNet, February 16, 2016). In March 2017, 150 US personnel and 100 Tajikistani staff conducted a crisis response exercise (Tj.usembassy.gov, March 20). But, although Russia is not Tajikistan's only security partner, these latest exercises demonstrate that Moscow continues to be its primary guarantor.