Dispute Over Armenian Historical Figure Disrupts Talks on Joint Russian-Armenian Air Defense System
Publication: Eurasia Daily Monitor Volume: 13 Issue: 110
By: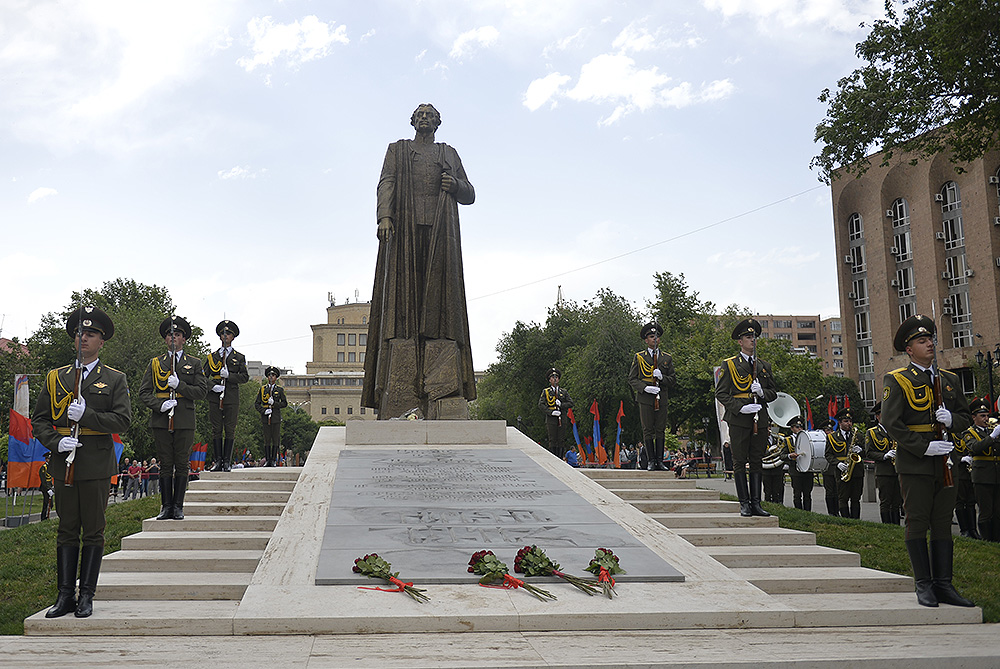 On June 3, the Armenian National Assembly's (parliament) Standing Committee on Foreign Affairs approved the draft agreement with Russia on establishing a joint regional air defense system (see EDM, November 18, 2015). The National Assembly was expected to vote on the agreement before breaking for the summer, at an additional session called at the government's request. The leader of the ruling Republican Party of Armenia (RPA), Vahram Baghdassaryan, told journalists that Russia made ratification of the agreement a precondition for supplying Armenia with its promised package of weapons worth $200 million (see EDM, April 14). However, on June 13, Baghdassaryan said that the agreement would not be on the agenda of the additional session of the parliament (168.am, June 13).
Critics of the agreement particularly pointed at the clause stipulating that Armenian air defense would be subordinated to Russia's Southern Military District, whose commander would then decide in which cases defense systems should be engaged. The draft had been prepared in January, before Armenia's so-called "four-day war" (April 1/2–5) with Azerbaijani forces in Karabakh (see EDM, May 18). Meanwhile, Moscow's apparent special relationship with Baku made some Armenian experts skeptical about extending Russian control over Armenia's air defense (168.am, June 6). Skeptics also noted that the growing tensions in Russia's relations with the North Atlantic Treaty Organization (NATO) should be considered. Indeed, the air defense system could potentially lead to a further curtailing of Armenia's already limited cooperation with NATO—particularly since Russia's Southern Military District covers that country's unstable North Caucasus as well as the wider region's occupied territories of Abkhazia, South Ossetia and Crimea (168.am, June 8; Novy Region, June 14).
Remarkably, an obvious question—evident already seven months ago, when negotiations on the joint air defense between Armenia and Russia began—has yet to be answered by officials. Specifically, how would Russian air force units based in the North Caucasus reach Armenian airspace if such a need arose (see EDM, November 18, 2015)? Until now, even preliminary consultations with Georgia concerning military overflight rights have not been initialed.
The reasons for postponing the vote in the National Assembly are not entirely clear. One possibility may be linked to an unexpected dispute between certain Russian officials and RPA representatives caused by the unveiling of a statue of Garegin Njdeh, in the government quarter in Yerevan. Major General Njdeh, whose writings constitute the basis of the RPA's official ideology, led the resistance to the Bolshevik takeover of the first Republic of Armenia. His troops continued to fight the Red Army in southern Armenia from December 1920 until July 1921, before going into exile to Persia. Later on, he lived in Bulgaria until being captured by Soviet troops at the end of World War II. During the war, he had participated in the formation of an Armenian Legion of the German armed forces, though this unit never took part in combat. Njdeh was sentenced by a Soviet court and died in prison. He was rehabilitated by the Supreme Court of Armenia, soon after the country gained its independence in 1991; at that time, a street, a square and an underground metro station in Yerevan were named after him. Busts of Major General Njdeh were unveiled in Gyumri (the site of a major Russian military base) and other cities without any negative reaction from Moscow.
Njdeh's name was first mentioned by a Russian analyst in a negative context last April, within ten days of the "four-day war," and immediately after a demonstration took place near the Russian embassy in Yerevan, in which the gathered crowd protested against Russia's decision to continue supplying weapons to Azerbaijan (see EDM, April 14). Andrey Yepifantsev argued that Armenia was following in Ukraine's footsteps, specifically mentioning Njdeh in the same context with Ukrainian national hero Stepan Bandera—the latter long a target of negative Russian propaganda (Politrus.com, April 14).
At the time, Yepifantsev's article went almost unnoticed. However, after the unveiling of Njdeh's statue in Yerevan, on May 28, several Russian analysts called this move a "demarche" against Russia. Notably, Mikhail Remizov, the president of the Moscow-based National Strategy Institute, speculated that Armenia is trying to move away from Russia's "official history," particularly by criticizing Bolshevik Russia's actions, which resulted in a loss of large parts of Armenia's territory in 1920–1921. A "not very loyal or sympathetic attitude toward Russia's historical imperial project" could be observed, he concluded (Vesti Kavkaza, May 30). Later, the spokesperson of the Russian Ministry of Foreign Affairs, Maria Zakharova, stated that Moscow was surprised by the unveiling of the statue in Armenia (RIA Novosti, June 10). The vice-chairman of the National Assembly of Armenia and RPA spokesman Eduard Sharmazanov, as well as the press secretary of the Armenian Ministry of Foreign Affairs, Tigran Balayan, publicly refuted Zakharova's statement (Tert.am, June 10; 168.am, June 11).
In parallel with the angry Russian tirades against allowing even small-scale protests in Yerevan, a sequence of articles appeared in the Armenian media that blast alleged local "russophobia" Utilizing several clichés characteristic of Russian propaganda, these articles claim that "the West contests Russia by spending large amounts to spread russophobia [in Armenia]" (Hetq.am, May 23), that "elements of anti-Russian fascism, widespread in Ukraine, can be observed in Armenia, too" (Hetq.am, June 6), and so on. Moreover, these alarmist articles demand that critics of Russia's policies must be silenced (Tert.am, June 13).
The RPA establishment is not ready to take any resolute steps to reduce Armenia's dependence on Russia. However, it will probably interpret the growing Russian pressure as a signal of danger. As the 2017 parliamentary elections approach, Moscow may increasingly support certain local opposition factions that would be more fully loyal and that would avoid even mild criticism of Russia's policies. While the RPA has little room for maneuver, it is not likely to fully disregard the accusations coming from Moscow of "fascism" and "russophobia," particularly bearing in mind other recent examples of usage of those terms in Russia and some of their consequences—first and foremost in Ukraine. It remains to be seen how the RPA leadership will deal with this situation against the background of its preoccupation with staying in power, Armenia's expected difficulties with securing weapons supplies, the ongoing economic decline, and other issues.