Kremlin's New Representative for Ukraine Policy Draws Conclusions From Past Failures
Publication: Eurasia Daily Monitor Volume: 17 Issue: 16
By: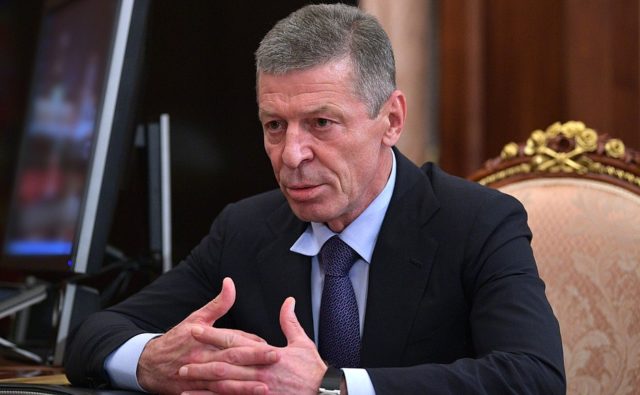 Russian President Vladimir Putin has appointed Dmitry Kozak as deputy head of the presidential administration and principal representative for policy toward Ukraine, on top of Kozak's continuing mission as presidential envoy for Moldovan affairs. Kozak will be handling the conflicts in Donbas and Transnistria, as well as relations with the Ukrainian and Moldovan governments, on Putin's behalf, in two parallel processes (see EDM, January 30, February 5).
Ukrainian observers are alert to the parallels between these conflicts—one active, the other frozen, and both involving Russia as instigator and belligerent. Along with this role and in spite of it, Moscow has also held the initiative in proposing political solutions. These typically consist of a federal or special-status arrangement, reinserting the Russian-controlled territory into Ukraine or Moldova in the form of a state-within-the-state: programmed to influence Ukraine or Moldova from within, but immunized against any effective Ukrainian or Moldovan control. Typically as well, Western diplomacy has accepted these Russian proposals as a basis for negotiations, such as the ongoing Normandy/Minsk and 5+2 processes.
Kozak will henceforth coordinate Russia's participation in both of those processes. Kozak's name remains indelibly associated with the project to federalize Moldova in 2003, and he embarks on his new assignment haunted by that project's resounding failure on the cusp of success. Recently, however, Kozak has given ample indications of having learned from that experience.
The "Kozak Memorandum" (Regnum, May 23, 2005) provided the constitutional framework for federalizing Moldova with Transnistria. It would have turned the Russian-controlled Transnistria into a state-within-a-state, with blocking powers on Moldova's policies, and committing Moldova to a pseudo-neutrality under Russian guarantees. Brokered by Kozak between Chisinau and Tiraspol, on Putin's instructions, this was a purely unilateral Russian project. Negotiated and finalized in deep secrecy, and revealed at the last moment, it triggered a strong backlash from Chisinau protesters and Western diplomats. Chisinau pulled back from Kozak's project only hours before Putin's scheduled flight to the Moldovan capital to sign the federalization agreement.
Fifteen years later (2018), Kozak returned on Putin's behalf to Moldovan affairs and proceeded to detail some of the lessons learned. In a lengthy interview, released in Chisinau soon after his reappointment that year, Kozak described Moldova's rejection of his plan as a "huge error," stood by the original plan on its merits, and blamed its non-acceptance on Chisinau and Washington in equal measure, but did acknowledge that a federalization project can no longer be submitted in that form. While defending the project's content, he indicated that its outward form would have to change, the term "federalization" is too controversial, Russia should promote its conflict-resolution initiatives in multilateral frameworks rather than unilaterally, and that, instead of acting in deep secrecy, Russia should persuade public opinion that the "reunification" of the divided country is good for it in the specific form proposed (Moldavskie Vedomosti, September 7, 2018; Komsomolskaya Pravda, September 8, 2018).
Kozak went on to broker (alongside Western diplomats) the regime change in Chisinau in 2019, from Vladimir Plahotniuc's rule to the broad left-right coalition (see EDM, June 21, 26, 27, 2019). In several interviews on that occasion, he suggested that Moscow could test a new model for regulating the competition between Russia and the West in this part of Europe. A constitutional settlement must be bipartisan or multi-party-based, not based simply on local pro-Russian forces. It must not be called "federalization" (as he had), but resort to euphemisms, such as "special status." And it cannot be a unilateral Russian project, but needs to be concerted between Russia and Western powers. Kozak warned against hastening the process (which he did on his first try), calling instead for patience in a step-by-step process (Kommersant, June 3–11, 15, 25, 2019).
Both in Moldova's case and in that of Ukraine, the Kremlin's representative envisages consensus-building among three types of stakeholders with regard to conflict-resolution terms (see EDM, February 5, 2020):
A consensus between the legislative and executive branches of power in Kyiv and in Chisinau.
Negotiations between Chisinau and Tiraspol and between Kyiv and Donetsk-Luhansk.
Submission of the results (if and when attained) to the Normandy format and the 5+2 framework for their ratification.
Moldovan President Igor Dodon has adopted this logic in his public statements. Those consensus-building stages are defined as prerequisites to a conflict-ending constitutional settlement. This logic is fully consistent with that of the Normandy/Minsk and 5+2 processes, which Russia itself largely shaped. Thus, Russia is allowed to play two roles simultaneously, as party to the conflict and mediator in the conflict. The terms of conflict-resolution (including the constitutional settlement) are to be negotiated between the legitimate government and Russia's proxies on an equal basis, leading inescapably to a state-within-the-state outcome (if there is an outcome), or otherwise to protracted conflict (active or frozen). Either scenario would block or retard Ukraine's and Moldova's European integration prospects.
Kozak's comments represent an undeclared lessons-learned process and are apt to make Russian diplomacy more effective on both of these fronts. While the 5+2 process remains stagnant, the Normandy/Minsk process seems to be advancing against Ukraine's interests (see EDM, January 16). In both processes, Moscow no longer operates with the antagonistic term "federalization," but rather with the "special status"—the official end goal in both.
A protracted "frozen conflict" (no outcome) is clearly preferable for Moldova and Ukraine, compared with a "state-within-the-state" outcome. Moldova does have the "frozen conflict" option at its disposal because it does not border on Russia, being shielded by Ukraine. For Ukraine, however, the "freeze" option is far more difficult to pursue while facing Russia directly across a Russian-controlled border and with active (if low-level) hostilities inside Ukraine's territory. Russian diplomacy looks set to exploit these dilemmas more creatively under Kozak than was hitherto the case.