Moldova Extricates From Russian-Dominated Process of Negotiations on Transnistria (Part One)
Publication: Eurasia Daily Monitor Volume: 20 Issue: 33
By: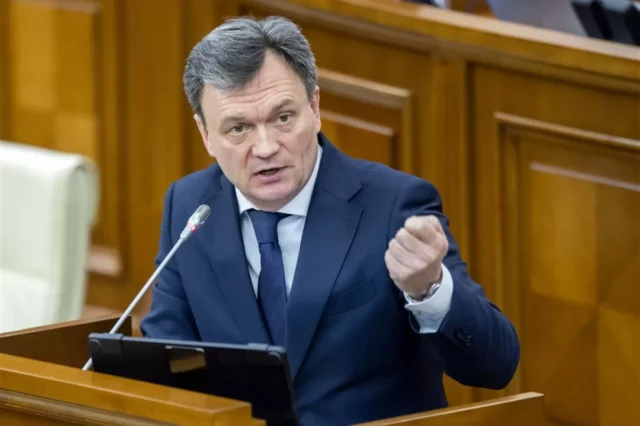 The first move to disentangle from an externally imposed, potentially fatal diplomatic process is to change the semantics. Along with this move, the country—Moldova in this case—must assert the priority of its own interests over those who caught it in this trap—namely, Russia and its auxiliaries in the now 30-year-old Transnistria conflict-settlement process. Russia had designed this diplomatic process with its political objectives, organizational structure, ground rules and the attendant semantics in mind. This process foreordained either permanent partition or reunification under Russian control for Moldova (see EDM, January 26, 30, 31, February 1).
The Moldovan leadership, under President Maia Sandu, has now moved to extricate the country from that process. For the first time in 30 years, leadership has emerged in Chisinau with the motivation and skill to promote a Transnistria solution in line with Moldova's Europeanization process, as distinct from and opposed to Russia's interests in Moldova and the wider region. Chisinau's decision began to take shape toward the end of 2022 and has come into full, coherent shape with the swearing-in of Prime Minister Dorin Recean on February 16. The ministers responsible for Transnistrian policy and foreign policy are the same ones as in the predecessor government, the main players in this policy change (see below).
Russia's re-invasion of Ukraine one year ago has doomed the "5+2" negotiating setup in which Russia and Ukraine sat next to each other as "mediators" and "guarantors" vis-a-vis Chisinau and Tiraspol, with the United States and European Union reduced to "observers." The EU's acceptance of Moldova as a membership candidate country in June 2022, however, necessitates preventing Russia from using the Transnistria settlement process as a tool to block Moldova's European integration. To take that tool out of Russia's hands, the "5+2" format must simply not be convened any longer.
Announcing the government's program in parliament on February 16 (Ziarul National, February 17), Recean unveiled Chisinau's goals and priorities regarding Transnistria, which would undo the Russian-designed acquis of at least 25 years in the Transnistria settlement process.
Chisinau's "fundamental priorities" include:
Transnistria's "demilitarization" is defined as the complete evacuation of "unlawfully stationed" Russian troops, arms and ammunition from the separatist region. (Implication: Chisinau no longer differentiates between Russian forces labeled as "peacekeepers" and those without that label. They are all defined as unlawful.)
A diplomatic solution is needed leading to the "recovery of Moldova's full sovereignty" in Transnistria. (Implications: This will reverse the Russian-designed sequence, which demands, first and foremost, a political solution under duress, then talks about a hypothetical troop withdrawal, potentially allowing some Russian "guarantor" troops to stay.)
The implementation of Moldova's European integration programs in the entire territory of the country is imperative, including in Transnistria. (Implication: The proposed "special status" for Transnistria would conserve the enclave unreformed, hence Moldova must regain "full sovereignty"—see above.)
Efforts will be made to encourage the Organization for Security and Co-operation in Europe's Moldova Mission to become involved in protecting the human rights of Transnistria's inhabitants.
For the interim period, Recean's government intends, inter alia, to:
Continue direct dialogue in the "1+1" format with Tiraspol's de facto leadership on economic and technical matters, in the interest of the population on both banks of the Nistru River ("dialogue" as distinct from "negotiations" on political matters, these being off the table pending demilitarization);
Engage in bilateral dialogue between Chisinau and each one of the "5+2" participants, so as to maintain stability and avert any incidents in or around Transnistria (implication: bilateral dialogues with all participants make it unnecessary to reconvene the "5+2: setup);
Promote freedom of movement across the Nistru River, including access for Moldovan media and non-governmental organizations, for purposes that include "support for national cultures" in Transnistria (implication: apparently, a cultural offer for local Moldovans and Ukrainians exposed to Russification).
Recean reaffirmed these points in his first televised address to the country as prime minister and his first visit in this capacity to the Moldovan countryside (Moldpress, February 17, 21; Ziarul National, February 21). Deputy Prime Minister Oleg Serebrian (in charge of reintegration policies) and Foreign Minister Nicu Popescu have also reasserted these positions to domestic and foreign audiences in recent weeks. And President Sandu had given the signal even earlier.
On the crucial front of semantics, these officials have stopped using the Russian-designed terminology of the "5+2" process. The newly appointed Recean never had to use that discredited terminology; Serebrian and Popescu had used it, in deference not so much to Russia as to status quo–bound Western diplomats. But they have stopped doing so in recent weeks: they no longer talk about a "special status" for Transnistria, "small steps" of unilateral concessions to Tiraspol or "mediators" and "observers." Referencing these would implicitly accept Russia as the mediator and implicitly highlight the inferior status of US and EU observers vis-a-vis the mediating Kremlin.
Chisinau and Tiraspol do, however, share major interests in terms of maintaining political and social stability, preventing any spillover of the Russo-Ukrainian war into Moldova's territory, including Transnistria, and the continuation of natural gas and electricity flows across both sides of the Nistru River.
On February 2, the Moldovan Parliament's ruling majority adopted an Anti-Separatism legislative package, introducing criminal penalties for actions explicitly directed against Moldova's territorial integrity. How this legislation will be applied in practice is a matter of debate among Moldovan analysts (IPN, February 6).
Thus, it is unnecessary for Chisinau to pronounce the 5+2 forum and its acquis as dead, otherwise de-recognize it, or officially abandon it. It is best to let it expire quietly by not having it convened.
Moscow and Tiraspol are calling for the 5+2 format to be reconvened, not so much for a meeting per se but to reactivate its toxic "acquis" of Russian authorship. While Moldova is determined to adopt the EU's "acquis communautaire," Russia would like to re-impose on Moldova the 5+2 "acquis Moscoutaire."