Putin's Journey From the Munich Speech to the Brink of War With Ukraine
Publication: Eurasia Daily Monitor Volume: 19 Issue: 18
By: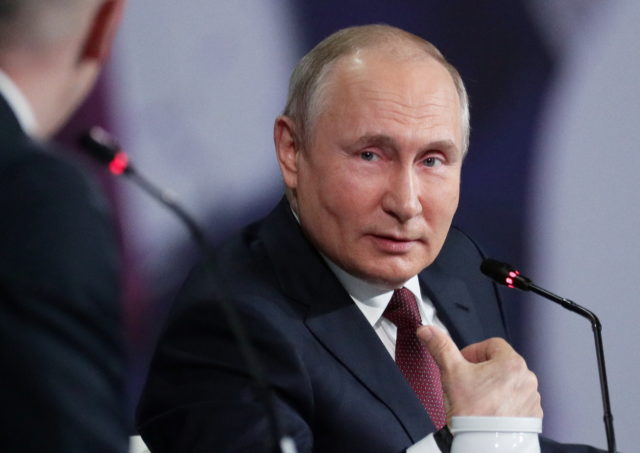 Fifteen years ago, at the 2007 Munich Security Conference, President Vladimir Putin surprised the high-level audience with a speech that explicitly juxtaposed Russian and Western security interests. In retrospect, the tone of the presentation was argumentative rather than assertive, but Moscow added force to its arguments by going to war against Georgia in August 2008 (Moskovsky Komsomolets, February 10). Then–French president Nicolas Sarkozy rushed to Moscow and negotiated a restoration of the status quo ante, except that Russia opted to recognize secessionist Abkhazia and North Ossetia as "independent states" and proceeded with their military occupation. Last week (February 7–8), the current president of France, Emmanuel Macron, found Putin entirely disinclined to compromise and received a long litany of complaints about threats from the North Atlantic Treaty Organization (NATO) and the aggressiveness of the "Anglo-Saxons" (Kommersant, February 8; see EDM, February 10). No Russian delegation will take part in the Munich Security Conference this weekend (Meduza.io, February 9).
At the heart of the current crisis is Russia's military pressure on Ukraine, which has reached such intensity that United States President Joseph Biden urged all US citizens to leave Ukraine and made an emergency phone call to his Russian counterpart last Saturday (Moscow Echo, February 11). The Kremlin's insistence (reiterated in the conversation with Biden) on implementing its interpretation of the February 2015 Minsk agreement on freezing the hostilities in the Donbas war zone predetermined the futility of Macron's attempt to invent a diplomatic solution to the present high-risk crisis (Nezavisimaya Gazeta, February 7). Ukraine refuses to enter into direct talks with the pseudo-separatist authorities, who are entirely controlled by Russia; and France (together with Germany) did not try to press the issue at the "Normandy format" meeting in Berlin on February 11, much to Moscow's disappointment (Kommersant, February 11). Whereas, the discussion in Moscow between Foreign Minister Sergei Lavrov and the United Kingdom's Foreign Secretary Elizabeth Truss, a day earlier, was fruitless and frosty (Rossiiskaya Gazeta, February 10).
The follow-up meeting between UK Secretary of State for Defense Benjamin Wallace and Defense Minister Sergei Shoigu was, on the other hand, notably more pragmatic and professional (Izvestia, February 11). The Russian top brass have been keeping an unusually low profile in the course of the ongoing escalation, leaving the war-mongering to Lavrov's diplomats and "bloodthirsty political scientists," as one military expert recently put it (Nezavisimoe Voennoe Obozrenie, February 3). An unexpected case against escalating the war with Ukraine was raised by General (ret.) Leonid Ivashov, who led the Russian delegation to the 2000 Munich Security Conference, at the dawn of the Putin "era" (Novaya Gazeta, February 12). Orating from the ultra-nationalist fringe, Ivashov may be irrelevant in himself, but his protestations quite probably reflect doubts in the officer corps and the lack of enthusiasm in the society at large regarding the looming war (Znak.com, February 9; Moscow Times, February 7). The phone calls from US Secretary of Defense Lloyd Austin to Shoigu and from General Mark Milley, the Chairman of the US Joint Chiefs of Staff, to General Viktor Gulevich, the chief of the Belarusian General Staff, signified another attempt to restore the crucially important military-to-military contacts (Mil.by, February 10; RIA Novosti, February 12).
Belarus has turned into a major threat amplifier in the Ukraine crisis, as some 30,000 Russian troops arrived there for unprecedentedly intensive exercises, designed to at least look like preparation for an invasion (Izvestiya, February 10; see EDM, January 20, 26, February 2, 9). Just two years ago, President Alyaksandr Lukashenka sought to disentangle his country from the Russian embrace and hosted such high-level US officials as then–National Security Advisor John Bolton and Secretary of State Michael Pompeo. But the Lukashenka regime's suppression of mass protests starting in August 2020 reversed the slow rapprochement with the West, forcing him to prove his usefulness to Putin in order to preserve the support he received from Russia (Rosbalt, February 10). Any provocation in the Donbas war zone could make the appeal from the Russian State Duma for recognition of the secessionist pseudo-republics a trigger of fast-moving hostilities (RBC, February 11).
Adding to the tensions on Ukraine's borders is the concentration of Russian naval assets in the Black Sea, moved to this theater from as far away as the Pacific (Svobodnaya Pressa, February 6; see EDM, January 24, February 10). The most provocative part of these naval exercises in the Sea of Azov was canceled without any explanation, but Russian landing ships could move there, loaded with marines, within hours (Svoboda.org, February 11). Ukraine had every reason to demand from Russia explanations of this military activity, which breaks all legal commitments on threat reduction and transparency (TASS, February 11).
Experts guess at whether Putin has made the fateful decision on a full-scale invasion or if he is still vacillating, but the critical escalation of tensions is indeed entirely of his making (Republic.ru, February 11). Biden maintains his repeated warnings against such a move, but he can presumably deduct from Putin's persistent complaints about the ostensible threats to Russia's security that the crisis has deeper roots than just the ambitions and anxieties of the self-isolated Russian commander-in-chief (RIA Novosti, February 12). It is not NATO enlargement that actually drives these feelings of insecurity but the transformation of Putin's "enlightened" authoritarian regime into a rigid autocracy, which needs to produce and exaggerate external threats to justify its continued grasp on power (Moscow echo, February 10). The dominant discourse identifies Russian national interests with the preservation of the Putin regime. This is incompatible with modernization and condemns the country to economic degradation. Yet that narrative still finds traction with a significant part of the disgruntled and apathetic population (The Insider, February 9).
Putin's autocratic regime justifiably perceives every demand for greater political freedom as a threat to itself. And as domestic repressions worsen and increasingly target the discontented youth, Russia recedes further away from Europe and the wider democratic West. Ukraine also has serious problems with institution-building and corruption, but in contrast to Russia, it remains committed to upholding a democratic state and so constitutes a natural focus of Russian angst and aggressiveness. To draw Ukraine firmly back into the Russian orbit, Moscow cannot count on the attractiveness of its social model or the persuasiveness of its propaganda of historic "brotherhood," which it betrayed by annexing Crimea and starting the war in Donbas. It can rely only on its military might, since the various "hybrid" operations over the years have yielded only meager results and often backfired. It remains to be seen whether Biden's tactics of strengthening Western solidarity and dissuading the Kremlin's war planners from making the fateful move will succeed.