Russia Flexes 'Iskander' Muscles on Its Northwestern Flank
Publication: Eurasia Daily Monitor Volume: 13 Issue: 163
By: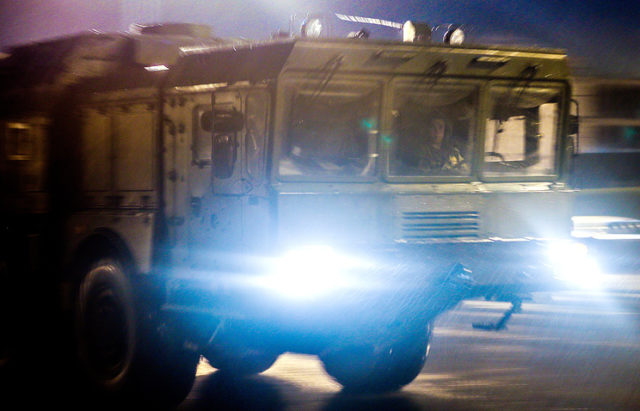 Over the past several months, Russian has been ramping up military activities on its northwestern flank (see EDM, July 11). This was most recently underscored by the intensification of Moscow's "Iskander diplomacy" and attempts to project the image of improving efficiency in the western-facing Armed Forces. Both elements revolve around Russia's strategic outpost in the West—the Kaliningrad Oblast exclave.
According to Lauri Lepik, the Republic of Estonia's permanent representative to the North Atlantic Council, speaking on October 7, Russia was secretly transporting Iskander-M theater ballistic missile complexes to Kaliningrad Oblast. As proof, the Estonian official presented screen shots that depict the sea vessel Ambal, a civilian ferry from Ust-Luga (Soikinsky Peninsula, by the Gulf of Finland, being used for this purpose (Newkaliningrad.ru, October 7). This information was later repeated in the Russian mass media (Fontanka.ru, October 7). It took a full day for the Russian Ministry of Defense to grudgingly confirm this deployment of Iskanders (Lenta.ru, October 8). Defense ministry spokesperson Igor Konashenkov boasted that Russia "wanted the [Iskander] complex to be spotted by the Americans" (Interfax, October 8). Furthermore, he admitted that "Russia has transported Iskander complexes to Kaliningrad before and will continue to do so" (Politonline.ru, October 8).
The deployment of these advanced ballistic missiles to Russia's Baltic exclave was predictable. At the end of June, the permanent representative of the Russian Federation to the North Atlantic Council, Alexander Grushko, hinted that Iskanders could be sent to Kaliningrad Oblast on short notice (Interfax, June 30). That being said, the current "Iskander affair" should be viewed within the context of a much broader range of preparatory activities conducted by the Kremlin over the past several months.
On October 4, the rocket brigade of the Western Military District (MD) was put on the maximum level of military readiness (TASS, October 4). This posture turned out to be in preparation for carrying out military exercises, including training to fire the Iskander-M. These exercises assembled 500 military personnel and 50 pieces of heavy munitions and artillery, thus substantially increasing the scope of similar drills held last July (Voenno-Promyshlennyi Kurier, July 25).
The authorities also announced on the same day that Kaliningrad would be hosting tactical war games. The exercise would involve the participation of over 1,000 military personnel and more than 100 pieces of special equipment, including BMP-2 infantry fighting vehicles, T-72 main battle tanks, Akatsiya and Gvozdika self-propelled artillery pieces, Giatsint field guns, and Grad multiple rocket launchers. These land forces would practice under the cover of Su-24 attack aircraft and Mi-24 helicopters (Newkaliningrad.ru, October 4).
It is worth noting the changing nature of these exercises on Russia's Baltic coast. In late August, snap readiness exercises were carried out in the Western MD specifically in preparation for the large Kavkaz (Caucasus) 2016 war games concentrated on Southwestern Russia (Vzglyad, August 25). Whereas two subsequent September exercises hosted in Kaliningrad Oblast (at the Baltic Sea Fleet's "Khmelevka" training grounds) were concerned strictly with local tasks, such as coastal defense and on-shore naval fire support (Vesti-kaliningrad.ru, September 7; Newkaliningrad.ru, September 14).
Besides holding more exercises, the government has also been explicitly building up the military manpower present in Kaliningrad Oblast. For instance, according to local sources, more than 7,000 additional naval personnel will join the Baltic Sea Fleet (BSF), which is stationed in the oblast, of whom more than half will be brought in from other parts of Russia (Newkaliningrad.ru, October 4).
Taken together, these developments reflect Russia's evident rapid efforts to fortify its northwestern flank. These actions are driven by at least three key issues. First, Moscow is reacting to the fallout from the "decapitation of the BSF" (in June 2016), whereby Moscow sacked several dozen commanding officers for systemic corruption and widespread incompetence. Those revelations were not only embarrassing for the government but additionally exposed numerous weaknesses in the Kremlin's control over the region (see EDM, July 19). Now, Moscow is trying to deal with these ongoing challenges by highlighting perceived outside threats. Specifically, Russia aims to create the impression of dramatic changes being carried out in Kaliningrad by holding more military exercises and accreting ever stronger military forces to this "fortress on the Baltic." Nonetheless, historical experience of the central government's involvement in regional-level affairs suggests that quantity will not necessarily transform into quality.
A second factor driving Russia's recent activities in its northwestern flank, is the Kremlin's resolve to use the Iskander as a kind of "trump card" or tool of Russian diplomacy to deal with other countries in the Baltic Sea region—from Poland and the Baltic States to Scandinavia. Russia has for years suggested that Iskander-M missiles would target Central-Eastern European countries in retaliation for the North Atlantic Treaty Organization (NATO) moving additional forces to the Baltic region. In addition, Moscow has threatened Sweden and Finland with Iskanders should either of these countries seek membership in the North Atlantic Alliance (RT, April 29, 2016; see EDM, July 29, 2014; June 13, 2016).
Third, in spite of ostentatious pronouncements about Russia's invincibility, Moscow clearly does not feel secure on its northwestern flank—apparently doubtful of Kaliningrad Oblast's ability to be the country's "impregnable bastion." In his analysis of possible conflict scenarios between NATO (and its allies) and the Russian Armed Forces, Mikhail Nikolayevskii argues that Kaliningrad will be particularly susceptible to a surprise attack by Western forces. The analyst contends that forces stationed in this exposed oblast would be destroyed with relative ease (Voenno-Promyshlennyi Kurier, August 24). Considering this situation, Iskander complexes deployed to Kaliningrad could play a decisive role in warding off the forces of a potential attacker. Moreover, the fact that Iskander missiles can reach targets as far as 500 kilometers away, could shift the regional balance of power more in Russia's favor.
The apparent deployment of Iskander ballistic missiles to Kaliningrad actually suggests that Moscow has exhausted all the other means of effectively withstanding the political, economic and cultural competition with other regional players. "Iskander diplomacy" thus represents Moscow's last resort. For Kaliningrad Oblast, on the other hand, this means a return to the Soviet-era preoccupation with the militarization of the territory. The residents of Kaliningrad, therefore, can expect the progressive transformation of their region back into an isolated military outpost—reversing the modest external links with Europe that were cultivated during the post-Soviet period.