US Diplomacy Feeds Putin's Sense of Self-Righteousness
Publication: Eurasia Daily Monitor Volume: 13 Issue: 60
By: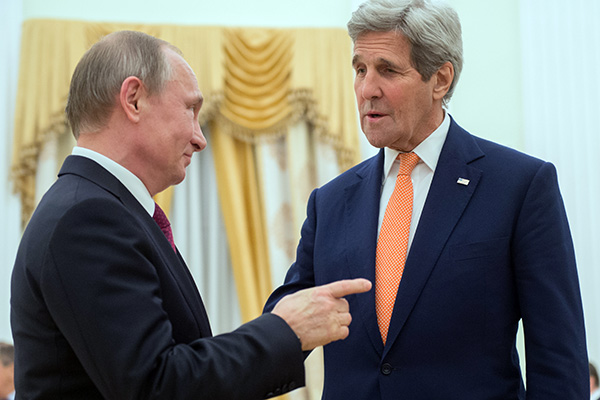 President Vladimir Putin may have every reason to be satisfied with the visit of US Secretary of State John Kerry to Moscow last Thursday (March 24). Their meeting lasted no less than four hours, and prior to it, Kerry had a long and remarkably cheerful face-to-face conversation with Foreign Minister Sergei Lavrov. According to observant journalists, the Kerry-Lavrov meeting produced a cozy atmosphere for the later talks in the Kremlin (Kommersant, March 24). Lavrov was positively jubilant about the fiasco of Western efforts to keep Russia in international isolation (Moskovsky Komsomolets, March 25). Indeed, just hours before Kerry's arrival, German Foreign Minister Frank-Walter Steinmeier held talks with Putin and Prime Minister Dmitry Medvedev; and on Friday, March 25, it was the turn of Italian Foreign Minister Paolo Gentiloni to come to Moscow (Kommersant, March 25). The question remains, however, whether this friendly engagement and proto-cooperation encourages Putin to stay on his best behavior—or whether the Russian leader simply concludes that the West will come begging for his help and self-restraint no matter what?
Syria took up a major part of the agenda in last week's discussions. And Putin had every reason to believe that his "surprise" partial withdrawal of Russian forces from the country (see EDM, March 15, 17, 22) buoyed the effect of the initial surprise intervention, so that his Western counterparts were at loss about what Russia might do next. The problem is that Putin himself said little about next steps—though clearly, he wishes to remain a key player in the Syria talks, while being less exposed to risk. However, Russia's remaining forces in Syria are now more vulnerable, and news about casualties exacerbates the souring public mood (Meduza.io, March 25). Putin has had to demonstrate that Russia remains a major force in the international struggle against the Islamic State: the offensive by Bashar al-Assad's forces toward the symbolically important city of Palmyra is supposed to deliver the proof positive (Newsru.com, March 26). The problem is that the preservation of the al-Assad regime is a non-starter at the peace talks in Geneva, and the Western diplomatic visitors to the Kremlin had no appetite for it either (Slon.ru, March 25).
The context of the talks in Moscow was seriously altered by the Islamic State's terrorist attacks in Brussels (March 22), seemingly strengthening Putin's hand in his talks with Western officials (Nezavisimaya Gazeta, March 25). Kerry conceded, making a rather ambiguous point that "it is fair to say that we reached a better understanding of the decisions that President Putin has made of late," which caught the attention of the Russian media (Kommersant, March 25). The curtailing of the bombing campaign against the moderate Syrian opposition was perhaps indeed a smart tactical decision given the desolation of Aleppo, but Russia's ability to contribute to the international struggle against terrorism is far from clear (Carnegie.ru, March 25). Russian politicians are eager to blame the West's culture of tolerance for the escalation of terrorist attacks in Europe, but in Russia itself the threat of terrorism remains acute without any such culture; and Putin's helplessness in controlling the violent behavior of Chechnya's despotic master Ramzan Kadyrov reveals the dark side of the "pacification" of the North Caucasus (Moscow Echo, March 25).
Another major issue on the agenda, which Kerry declared was discussed "constructively" without offering evidence of anything concrete having been achieved, was the Ukraine crisis (Novaya Gazeta, March 26). A serious sticking point was the fate of Nadezhda Savchenko, a defiant Ukrainian soldier and politician, who was sentenced by a Russian court to 22 years in prison, without a shred of evidence demonstrating her alleged crime (Gazeta.ru, March 23; Navalny.com, March 23). Putin would probably have been glad to bargain with the United States on the price for releasing this hostage, but he is likely worried about the impression of yielding to external pressure (Grani.ru, March 25). Kerry was unable to secure any promise from the Kremlin in this regard, nor could he advance beyond the usual reiteration of the importance of the Minsk ceasefire agreements. The latter are assessed by all parties to the conflict as non-implementable and are routinely violated by the spasms of heavy fighting in war-ravaged Donbas (Slon.ru, March 25). Russia shows no willingness to compromise on its control over the occupied territories in eastern Ukraine, despite the "black hole" in its budget, which, according to one astute commentator, was no problem when the oil price was $100 per barrel, but has now become a "luxury we [Russia] can ill afford" (Moscow Echo, March 25).
The Russian economy continues on a trajectory of slow decline, but it is accompanied by a sharp contraction of real incomes, particularly painful for the lower-middle classes (Vedomosti, March 23). This accumulation of discontent makes every revelation of rampant corruption in the bureaucratic elite a politically sensitive matter. Thus, the publication by Transparency International of an article revealing a luxury apartment in Moscow owned by Deputy Prime Minister Dmitri Rogozin inspired a massive hacker attack against the anti-corruption organization's website (Rbc.ru, March 25). Putin prefers to distance himself from these disagreeable problems, and he focused on the broad geopolitical picture at a recent meeting with business leaders. But he upset them by blatantly dismissing the importance of the economy (Moscow Echo, March 25). He knows that only support for his foreign policy keeps his approval ratings close to 70 percent, compared with about 85 percent a year ago (Levada.ru, March 21).
Putin's smug bearing at his meeting with Kerry is certain to add a few extra points to this approval because the Russian president can honestly confirm that he has not had to compromise his assertive stance one bit to revive Moscow's dialogue with Washington (Ezhednevny Zhurnal, March 25). He plays on the US's unwillingness to become entangled in the Middle Eastern mess and on President Barack Obama's irritation about "free riders" in Europe—and sees no change in this attitude. Putin also plays on the divisions in Europe caused by fiscal austerity and the refugee problem—and expects these divisions to only grow deeper. He is a faithful believer in the weakness of the "decadent West"; and every attempt at engaging him in a constructive conversation feeds his feeling that the end of the Western world is nigh. This self-delusion is in fact quite dangerous because it diminishes his fear of repercussions to his actions, so Putin's next proactive move might be even more reckless.