Whose Judgments on Belarus Deserve Attention?
Publication: Eurasia Daily Monitor Volume: 19 Issue: 114
By: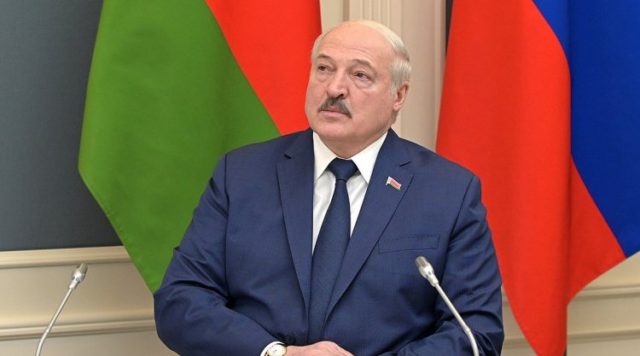 Within the span of a couple of days (July 20–21), a number of major Belarusian commentators made suggestive public statements: President Alyaksandr Lukashenka gave an hour-long interview to Agence France-Presse; Svetlana Tikhanovskaya made a speech at the Berlin-based ceremony devoted to the 78th anniversary of the assassination attempt on Adolf Hitler; Belarusian Popular Front Founder Zianon Pazniak was interviewed by Radio Free Europe/Radio Liberty (RFE/RL); and, finally, two of the most influential and active opposition-minded analysts, Ryhor Astapenia and Artyom Shraibman, also shared their judgments with RFE/RL.
In his interview, Lukashenka relied heavily on "whataboutism," the technique of responding to an accusation or a difficult question by making a counteraccusation (President.gov.by, July 21). Thus, the Belarusian president raised the issue of Western Europe's overdependence on the United States in response to a question about the diminished freedom to maneuver in Belarus's foreign policy due to its increased dependency on Russia. Likewise, the interviewer's reference to Russian troops in Belarus was parried by reference to foreign troops stationed in Western European countries.
At least half of the interview was devoted to the war in Ukraine. According to Lukashenka, the conflict was entirely initiated by the West, which also denied Kyiv permission to negotiate with Moscow. He made a point that "the Ukrainian authorities recently sold two French CAESAR self-propelled howitzers" to Russia, where they were carefully studied at a tank-producing factory. Lukashenka repeated his earlier opinion that the Western powers can stop the war any time by bringing Kyiv to the negotiating table. On the question of whether Kherson, Donetsk and Luhansk would still be on the table in negotiations, the Belarusian leader observed that those cities could have been discussed back in February or March 2022, but now, they are off-limits; that is, they now belong to Russia. He dismissed Belarus's lack of formal recognition of Russian-occupied territories as integral to the Russian Federation by mentioning that Minsk has recognized them de facto by cooperating with them and by opting to restore them after the war. Lukashenka also remarked that, even under sanctions, Belarus continues to sell a great deal of rapeseed (canola) oil to France. Additionally, he remarked, Minsk may help Paris with food even more once France begins to experience food shortages because of drought and high oil prices.
In her speech, Tikhanovskaya observed that, although Belarus is not as rich as Germany, "people with caring hearts will always find something to share." She said she is "inspired by Belarusian partisans who sabotaged the Russian army" (a reference to the rail-track war in the early days of the Ukraine war; see EDM, April 12) and "by hundreds of Belarusian volunteers who defend Ukraine with their lives" (a reference to the so-called Kastus-Kalinowski regiment; see EDM, April 6). Dictators cannot be reeducated, posited Tikhanovskaya. "We know how the appeasement attempts ended in 1938. We admonish the free world not to repeat the same mistakes with Putin or Lukashenka" (Svaboda.org, July 20).
In contrast to Tikhanovskaya, who was forced to leave Belarus on August 11, 2020, Zianon Pazniak has not set foot on Belarusian soil since 1996 but is still considered the founder of Belarus's Westernizing nation-building project. In Pazniak's opinion, true nationalists create popular movements, not the people who aspire to make Tikhanovskaya into Queen Elizabeth (Svaboda.org, July 21). The intellectual core of the anti-regime resistance, according to Pazniak, consists of himself, Belarusian Popular Front Deputy Chair Yuri Belenky, and Warsaw-based analyst Pavel Usov. He claimed that already 500 "communities" (supolki) opposing the regime, each consisting of two to three people, have been created in Belarus under this core's leadership. Similar to Tikhanovskaya, who he treats with contempt, Pazniak believes that Belarus is occupied, albeit not since 2022 but since 1994 (when Russia allegedly brought Lukashenka to power). Unlike Tikhanovskaya, Pazniak is a vehement opponent of Western sanctions on Belarus.
Whereas the above assertions emanate from actual and aspiring leaders, Astapenia's and Shraibman's analytic observations relate to grassroots realities (Svaboda.org, July 21). These remarks are based on about a dozen recent surveys and are extremely unusual for the opposition's public statements. According to Astapenia, who directed most of these surveys on behalf of Chatham House, support for Western sanctions imposed on Belarus was a mistake by the opposition that led to its diminished support from rank-and-file Belarusians. Astapenia professes skepticism on "all those liberation movements." The Belarusian revolution lost the battle, observes Astapenia, so for positive changes to occur, a crack in the ruling elite is needed, but it is not there yet. The idea of Belarus's neutrality has more potential to consolidate Belarusians than does the idea of bringing Belarus into Western alliances. To mobilize its supporters, the opposition opts for the latter, but most ordinary Belarusians are in favor of integration with Russia even as they oppose entering the war against Ukraine. As for those Belarusians leaning toward the West, they still represent a minority.
Shraibman shares most of Astapenia's observations. The emphasis, he suggests, ought to be on nonparticipation in the war, not on promises to bring Belarus into transatlantic structures: "Pro-European choice of the opposition is in dissonance with the choice most Belarusians are making." Yes, Belarusians are exceedingly polarized, but, "if the Kastus-Kalinowski regiment [that has been fighting on the Ukrainian side] appeared in Belarus, it would not earn the support of the majority. Even most of the protest electorate will not support it," argues Shraibman. "Democratic politicians ought to appeal to the majority."
As Robert Jervis famously showed in his 1976 book, Perception and Misperception in International Politics, how the other side thinks about an international crisis or problem is just as important and sometimes more important than how one's own side thinks about such issues. Based on this view, the above judgments may be of varying value for foreign policymakers. Lukashenka's judgments are noteworthy insomuch as he is in charge and thus represents the "other side," whether we like it or not. Astapenia's and Shraibman's judgments are significant because they focus on Belarusian society and the way it truly operates, not how we would like it to function. The jury, however, is still out on how policymakers should view Tikhanovskaya's and Pazniak's judgments.