Putin Expresses Support for Cossack Battalion in Russian National Guard
Publication: Eurasia Daily Monitor Volume: 18 Issue: 118
By: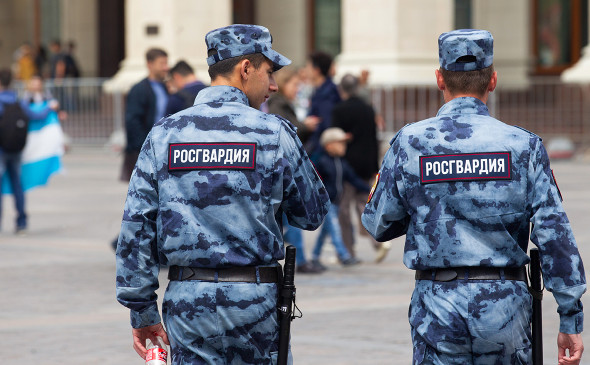 In a further sign of the rising importance of Cossack neo-imperial structures in Russia's current political system, apparently President Vladimir Putin recently expressed support for the idea of creating Cossack battalions within the Russian National Guard (Rosgvardia). The presidential envoy to the North Caucasus Federal District, Yuri Chaika, claimed, during a Cossack youth meeting in Nalchik, that Putin supported his idea of creating separate units: "we think Cossack battalions will be created that are exclusively Cossack. They will be located where Cossacks live. This is our thought. It is difficult to say how we will implement it, but we will try to realize it." Chaika reportedly floated the idea of attracting Cossacks into the ranks of Rosgvardia on June 24, proposing to induce members of the Terek Cossack Host (based around Stavropol) to join as a trial run (Meduza, July 10). However, after Chaika came out with his statement, the Kremlin stressed the absence of concrete plans to implement the scheme. Given that Chaika is a seasoned bureaucrat and unlikely to invent such an idea out of whole cloth, the most likely explanation is that one of the elements of the Presidential Administration gave the go ahead, assuming there would be no objection at the very top.
Rosgvardia is a "special new internal army" created in 2016, designed ostensibly to fight terrorists and organized crime, but which many analysts argue is really a specialized armed force to protect the elite in case of civil disturbance—a role held by the Interior Ministry Troops of Soviet times. The special service is headed by Victor Zolotov, who for many years oversaw Putin's personal security and is the latter's long-time close associate from St. Petersburg and sparring partner in boxing and judo (see EDM, April 7, 11, 12, 18, 2016). Zolotov himself has no obvious connections to regions of Russia traditionally inhabited by Cossacks, so he is unlikely to have given the permissive nod. A far more likely candidate is the conservative "Orthodox oligarch" Konstantin Malofeev (see Hot Issue, August 8, 2014).
Malofeev is infamous as the owner of the internet television channel Tsargrad, which broadcasts extreme right, anti-Soviet, anti-Communist and obscurantist views. Last year, at the congress of the Society for the Development of Russian Historical Education ("The Double-Headed Eagle"), participants decided to create a public organization with Malofeev as its chair, which would be designed to protect the interests of the Russian people and support candidates for parliament committed to traditional family, cultural and religious values. This organization will also be called Tsargrad. The movement includes public figures and anti-liberal ideologists like Sergei Glazyev and Alexander Dugin, representatives of the Union of Cossack Soldiers of Russia and Abroad, and representatives of the Russian Orthodox Church (Rot Front, November 23, 2020). While the main goal of the Tsargrad organization seems to be protection of the current regime, it also promises to engage in "educational" lectures for ordinary people. At the same time, Cossack organizations in Russia also promised to prepare a "unified concept of instruction in history," whereby an ultra-conservative and "patriotic" version of history could be affirmed as official (see EDM, January 22, 2021). Similarly, the November 4, 2019 (Russia Day holiday), creation of the "All-Russian Cossack Host" under Ataman Nikolai Doluda, which was financed for 62 million rubles ($840,000) from the 2020 state budget (Vsko.ru, accessed July 12, 2021), suggests further centralization.
Seeking to play down the rumors, Kremlin press secretary Dmitry Peskov told reporters that "Rosgvardia has enough [personnel]. There are simply regions where many Cossacks live, places where the indigenous population is composed of Cossacks, places where they will be taken into service in Rosgvardia; they will become fully subordinate guardsmen. There will be no separate Cossack units, everything will be a part of Rosgvardia." Peskov continued to stress that the plan would not be applied across the whole country, because Cossacks only lived in some regions (RIA Novosti, July 13). However, Anton Bredikhin, the advisor to the supreme ataman of the public organization Union of Cossack Soldiers of Russia and Abroad, stated that the real initiative for this plan probably comes from the ten-year Cossack development plan—"The Development of State Policy of the Russian Federation in Relation to the Russian Cossacks for 2021–2030." Indeed, Bredikhin went on to add that "the experience of creating Cossack companies of Rosgvardia in such regions is already there. In 2018, a Cossack company was created within Rosgvardia in the Kuban, on the initiative of Nikolai Doluda, the current ataman of the All-Russian Cossack Society" (Kavkaz.realii, July 15, 2021; see EDM, March 7, 2018). What is different about this latest proposal seems to be that both registered and unregistered (i.e., hereditary) Cossacks living in the territory of the unit will participate in them.
The Kremlin, thus, appears to be flirting with potentially dangerous ideas in a volatile region. On the one hand, it will further alienate hereditary Cossacks who dislike their associations being commandeered for repressive purposes—as the head of the All-Cossack Social Center Alexander Dzikovitskii said in response to the news of Putin's support (Kavkaz.Realii, July 13, 2021; see EDM, September 27, 2016 and September 27, 2018). On the other hand, by allying too closely to the Cossacks, the central government risks antagonizing social groups who have negative memories of Cossack oppression before the Bolshevik Revolution. In dredging up all these Cossack legacies at once, the Kremlin is creating a self-inflicted wound.