Ukraine Poised to Liberate Western Kherson
Publication: Eurasia Daily Monitor Volume: 19 Issue: 169
By: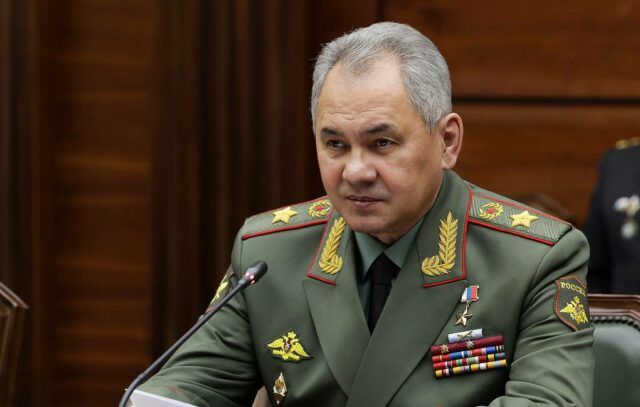 On November 9, in a televised conference, Russian Defense Minister Sergei Shoigu and the commander of Russian forces in Ukraine, General Sergei Surovikin, announced another major Russian setback (TASS, November 9). At Surovikin's recommendation, Shoigu approved the pullback of Russian forces from the right bank of the Dnipro River to the left bank, in Ukraine's Kherson province. This move gives up the western part of what Russia had only recently annexed as the "Kherson oblast of the Russian Federation" (see EDM, September 23; September 23; September 28; October 3, 12, 13).
The Ukrainian counteroffensive, under way since early October 2022, has compelled Russia to abandon its salient beyond the Dnipro. This is a key battlefield victory for Ukraine but not a turning point in the war (see below).
Russian President Vladimir Putin has not publicly commented nor reacted in any way to this defeat as of now. Putin and other Russian officials had warned during the annexation process that any encroachment on Russia's newly acquired territories would be treated as an attack on the Russian homeland. Instead, the Kremlin has conceded the territory, rolling out its generals to explain this defeat and bear the responsibility for it.
According to Surovikin during the televised conference, the Russian command had lost the ability to supply its forces on the western side of the Dnipro River. The right-bank salient had become indefensible, he reported without elaborating. As a result, Russian forces would switch to a defensive posture in fortified positions on the eastern side of the Dnipro. Surovikin rationalized this as a decision aimed at saving Russian soldiers' lives and to allow civilians from the right bank to evacuate safely to the left bank. Shoigu listened passively and approved these recommendations at the end. No mention was made of a Russian counteroffensive to regain the lost ground (TASS; Russian TV Channel One, November 9).
As Surovikin cryptically admitted, Ukrainian forces made it impossible for the Russian command to supply its forces on the western side of the Dnipro by targeting Russian logistics centers and supply lines, particularly the bridges over the Dnipro, with precision artillery strikes. The October 8 strike that partially disabled the Kerch Strait Bridge added to Russian forces' logistical predicament.
Surovikin, whose appointment as commander of Russian forces in Ukraine was announced on October 8, hinted at a possible retreat already on October 19, when he anticipated "difficult decisions regarding Kherson" (TASS, October 19). In a parallel announcement, on October 18, Kherson oblast's "acting interim head" Vladimir Saldo appealed to inhabitants of the city of Kherson to prepare for an evacuation eastward (TASS, October 18). Those twin moves presaged the Kremlin's decision to concede defeat on this sector of the front.
Kyiv estimates that 25,000 Russian troops are currently located on the right bank of the Dnipro River. However, no clear timeline has been presented for the withdrawal across the Dnipro. An entrapment maneuver, some other ruse or urban guerrilla warfare engineered by Russian troops staying back in Kherson are all being considered as possible scenarios. The Ukrainian military is, therefore, not rushing to liberate the territory and enter the city of Kherson in triumph immediately.
The civilian occupation administration has withdrawn from the western bank of the Dnipro to the eastern bank, complete with Russian carpetbagger officials, local collaborators, archives, banks, hospitals, vehicles and other movable assets. The administration's "deputy head," Kirill Stremousov, was killed on November 9 in what appeared to be a traffic accident, though assassination is suspected. Stremousov, a veteran of the 2014 Novorossiya movement, upstaged Saldo as the most visible and vocal personage in the occupation administration, as well as its interface with Russian and international media. Putin broke his silence to award Stremousov post-mortem with the Order of Bravery (Orden Muzhestva) within hours of his death (see EDM, October 27, Part One and Part Two; Kremlin.ru, November 9).
According to Ukrainian Commander-in-Chief Valery Zaluzhny, Ukrainian forces liberated an additional 264 square kilometers of territory west of the Dnipro River on November 9 and 10, which brings the total to 1,381 square kilometers for Ukrainian lands liberated from October 1 to date (Ukraynska Pravda, November 10). Ukraine's Kherson province on both sides of the Dnipro, however, measures 28,500 square kilometers.
Anticipating further incremental advances on the ground, Ukrainian President Volodymyr Zelenskyy has ordered the Kherson province administration (currently operating in Ukrainian-controlled territory) and the General Staff's Southern Command to set up military administrations in several districts and towns that are likely to be liberated soon in the western part of the province (Ukraiynska Pravda, November 9). Ukrainian troops have evicted the Russians from Snihurivka, the last remaining Russian foothold in Mykolaiv province (Ukrinform, November 10).
On November 9, Russian authorities completed the planned evacuation of civilians from the western part of Kherson province to its eastern part and onward to Russia. Under Russian Prime Minister Mikhail Mishustin's decree, all Kherson residents evacuated anywhere in Russia are eligible for a monthly living allowance and a housing voucher of unspecified value (TASS, November 7). The evacuation operation encompassed the city of Kherson (with a pre-war population of 320,000) and a 15-kilometer zone on the western side of the Dnipro. The results must be disappointing for the occupation authorities: 80,000 local civilians agreed to be evacuated, according to the Russian-installed civilian administration, or 115,000, according to Surovikin's report to Shoigu (TASS, November 9). The occupation authorities had envisaged higher numbers for transfer to Russia to be used as labor manpower and candidates for Russification.
Politically, the pullback means that Russia is ceding a chunk of what it defines as its own territory. When the pullback from Kherson is completed as planned, Russia will have lost the chance to carve out an overland corridor to Mykolaiv and Odesa. The Kremlin will have to focus on defending its occupied territory in the Zaporizhzhia region, of which it currently controls 70 percent.
Ukraine's victory in Kherson is not yet complete, and when it is, in the coming days or weeks, it will not constitute a turning point in the war. Although Ukraine has demonstrated in the Kyiv region in March, in the Kharkiv region in September and now in the Kherson region that it is capable of liberating parts of its territories, most Western powers have declined to arm Ukraine adequately for ultimate victory. Washington and other allied governments seem content to instead accept a stalemate on the ground and begin negotiations for peace between Ukraine and Russia on that basis.
Given present trends, therefore, Russia has been the net winner in this war thus far. It controls substantial Ukrainian territories (15 percent of Ukraine's total land area), has methodically destroyed Ukraine's civilian infrastructure and has devastated its demography, subtracting millions of Ukrainians from their nation through Russification in the occupied territories or by displacement to Russia. A true turning point in the war will only come when those trends are reversed by Ukrainian forces with indispensable Western armaments.