Ukraine's Kherson and Zaporizhzhia Regions Under the Russian State of War (Part One)
Publication: Eurasia Daily Monitor Volume: 19 Issue: 160
By: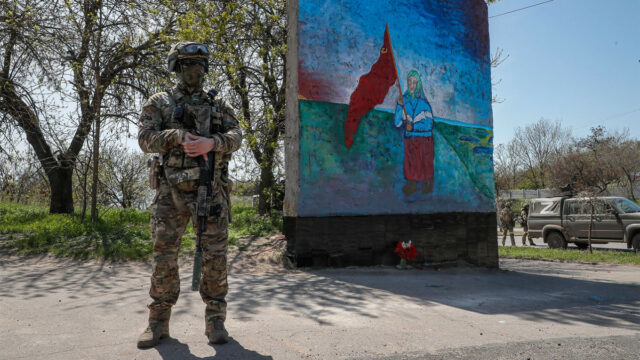 Russia designates its all-out aggression in Ukraine as a "special military operation," avoiding the term "war." Nevertheless, the Kremlin has imposed a "state of war" (voyennoye polozhenie) in the Russian-occupied Donetsk, Luhansk, Kherson and Zaporizhzhia regions of Ukraine. This decision caps the declaration of a partial military mobilization in Russia on September 21, the fraudulent blitz referendums staged in the four regions from September 23 to 27 and the constitutional procedures carried out in Moscow between September 28 and October 5 proclaiming the annexation of these regions to Russia (see EDM, September 23, "Blitz Referendums" and "Novorossiya Project"; September 28, October 3, 12, 13).
On October 19, Russian President Vladimir Putin signed a decree (ukaz) introducing the state of war in the four regions, coming into effect on October 20. Putin presented the decree as motivated by Ukraine's refusal to recognize the referendums and annexations as valid and by Kyiv's "neo-Nazi regime trying to create a terrorist underground [in Kherson and Zaporizhzhia] in the style of its Banderite predecessors" (Kremlin.ru, October 19).
The official state of war changes little in the occupied Donetsk and Luhansk regions, where it has existed de facto since 2014. In the Kherson and Zaporizhzhia regions, occupied since March 2022, however, the state of war is designed to confirm and underscore their annexation, intensify social regimentation and political repression of the local population, requisition and "nationalize" property from Ukrainian state and private owners, as well as set the stage for changing the demography of both regions through population transfers.
Putin's decree provides the legal basis for activating the state of war regime, without practical specifications. The decree instructs the government to present, within three days (by October 22 or 23), a detailed program for implementing the decree, drawing on proposals from the Russian Ministries of Defense, Internal Affairs, Civil Defense and Emergency Situations; the Federal Security Service (FSB); and the National Guard (Rosgvardiya) (Kremlin.ru, October 19). No such implementation program has yet been reported, however. And Putin's decree does not specify a time limit for the state of war regime.
Under Russia's Law on the State of War, the state of war regime, once decreed, remains in force until revoked by a subsequent decree. During the regime, the Russian authorities may: set up territorial defense formations; summon citizens to perform labor for defense purposes; temporarily evacuate enterprises and administrative institutions; temporarily remove citizens from their places of residence to resettle them elsewhere (with substitute housing mandatory); requisition property, with "subsequent" compensation; suspend the activity of associations that undermine the security of the state; introduce censorship of postal and internet communications; intercept telephone conversations; and intern or isolate citizens of enemy countries (TASS, October 19).
Such discretionary powers would enable the occupation authorities to integrate the Kherson and Zaporizhzhia regions into Russia in short order through coercion, intimidation and repression, unless organized popular resistance develops in both areas.
Russia's Law on Defense regulates, inter alia, territorial defense formations. These are set up in those jurisdictions (administrative-territorial units) where the state of war has been declared and will operate for the duration of the state of war regime. A territorial defense headquarters will be set up in each jurisdiction, headed by the highest executive official in that jurisdiction and comprised of the heads of relevant law enforcement, administrative and economic state bodies. Under that same law, territorial defense formations protect civilian institutions and critical infrastructure, watch for foreign infiltrators and saboteurs, as well as actively combat unlawful armed formations (TASS, October 19).
While the Donetsk and Luhansk regions have been in a state of war since 2014, complete with territorial defense detachments, this system is now being introduced in the Kherson and Zaporizhzhia regions. According to local occupation authorities, the mobilization of military reservists currently ongoing throughout Russia does not apply to the Kherson and Zaporizhzhia regions "for the time being."—nor does the next conscription cycle, which is due to start on November 1 (TASS, October 20).
These reprieves are almost certainly temporary or transitory measures. The territorial defense formations can serve as a partial substitute for the mobilization of conscripts and reservists. The Russian military in these occupied regions will, moreover, welcome the enlistment of local volunteers, regardless of whether they hold Russian or Ukrainian passports, according to General (ret.) Andrey Kartapolov, chair of the Russian State Duma's Defense Committee (TASS, October 21). Whether through territorial defense formations or volunteer enlistment, the occupation authorities may manipulate local residents into fighting against Ukrainian forces.
From April until September 2022, Russia administered the occupied Kherson and Zaporizhzhia regions through the instrument of military-civil administrations, headed by Russian military commandants and staffed by civilians (see EDM, April 7, July 28, Part One and Part Two). Following the "referendums" and annexations, the military-civil administrations were scheduled to turn into civilian ones, nominally headed by a local figure but in practice heavily staffed by Russian carpetbaggers. The introduction of the state of war has stopped and reversed this transition. Ultimately, power has reverted into the hands of the Russian military commands in the Kherson and Zaporizhzhia regions (TASS, October 20).