Reshuffle in Zelenskyy's Team and What It Means
Publication: Eurasia Daily Monitor Volume: 17 Issue: 24
By: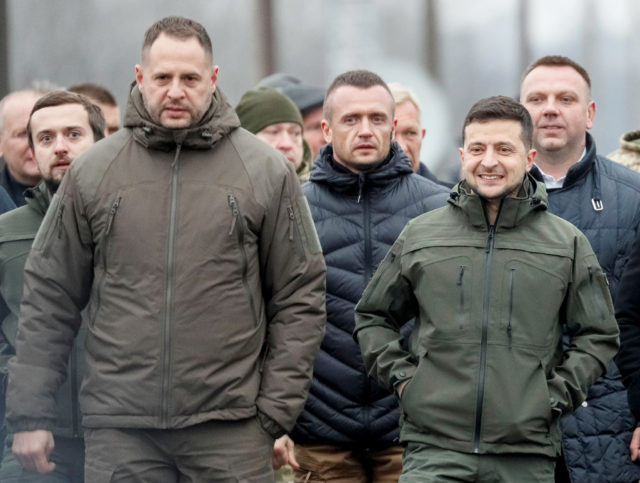 On February 11, Andriy Bohdan—known as the "shadow cardinal" of Ukrainian politics and a former lawyer of oligarch Ihor Kolomoysky (see EDM, October 9, 2019)—left his post as the chief of the presidential administration. He was replaced by Andriy Yermak, heretofore a presidential advisor informally nicknamed "the negotiator" (President.gov.ua, February 11). In addition to his new position, Yermak was given a seat on the National Security and Defense Council of Ukraine (President.gov.ua, February 12). So far, this has been the biggest personnel reshuffle in President Volodymyr Zelenskyy's team since his inauguration in May 2019.
Yermak started his political career in 2006, and worked as the aide to Party of Regions parliamentary deputy Elbrus Tadeyev, remaining in this position until November 2014 (Espreso.tv, February 12). But Yermak's rise to national prominence commenced with the Zelenskyy presidency. Upon taking office, President Zelenskyy (an actor and comedian, inexperienced in political issues) faced two major problems: external (the continuing war in Donbas stemming from the wider conflict with Russia) and internal (corruption and low living standards). While Andriy Bohdan (the chief of the presidential administration) primarily concentrated on domestic affairs, Andriy Yermak (presidential aide) chiefly focused on foreign relations. Nevertheless, Yermak periodically interfered in internal issues, which, allegedly led to a "conflict between the two Andriys." Their first major disagreement arose over Vitali Klitschko's dismissal from his position as mayor of Kyiv. According to Oleksandr Dubinsky, a member of parliament from the president's Servant of the People political party, Yermak's intervention was one of the reasons why Klitschko retained his job (Lb.ua, November 6, 2019). Furthermore, Bohdan had regular disagreements with other members of Zelenskyy's team, including Serhiy Shefir (first aide, close friend and business partner of Zelenskyy) (RBC, February 11). This also contributed to Yermak's career growth. In October, Zelenskyy appointed Yermak a member of the Supervisory Board of the state-owned, defense manufacturing concern Ukroboronprom (President.gov.ua, October 7). He also became the unofficial "minister of foreign affairs" and participated in Zelenskyy's international trips, including to the United Nations General Assembly meeting (New York), the Normandy Format talks (Paris), and for the Ukrainian president's audience with the Pope (Rome). Moreover, he accompanied the head of state in meeting freed military and political prisoners arriving from Russia last September as well as at the commemoration of the victims of the Ukrainian passenger jet (Flight 752) shot down over Iran on January 8, 2020 (Nv.ua, February 11).
But most importantly he became Ukraine's main negotiator with Russia, which resulted in two mutually agreed prisoner releases in 2019 (September 7, and December 29); the Russian side in these talks was represented by Dmitry Kozak (Liga.net, September 9, 2019). Incidentally, these prisoner "exchanges" (see EDM, September 10, 2019) played a decisive role in the political careers of both men: the recent elevation of Yermak occurred roughly at the same time that Kozak became the "figure in charge" of Ukrainian issues, after Russian President Vladimir Putin dismissed Vladislav Surkov from that role (112.ua, February 18; see EDM, January 30, February 5, 6, 20). Technically, Kozak had already been dealing with Ukrainian-related issues. For instance, he was known as an alleged "patron" of Ukrainian oligarch Serhiy Kurchenko (who fled the country in 2014). Kurchenko notably controls the coal industry and smuggling schemes in the Temporarily Occupied and Uncontrolled Territories of Ukraine (TOUTU) (see EDM, February 12, 2019). Incidentally, both Kozak and Yermak speak in flattering terms about each other. Namely, Kozak confirmed that it was Yermak who helped to finalized the new Russian-Ukrainian gas transit deal (Government.ru, December 21, 2019; Radiosvoboda.org, February 16; see EDM, January 22, February 4).
The reason for Yermak's success in negotiations with Russia may be related to his personal and business ties with Russian top officials closely connected to Putin. According to the register of legal entities, Yermak and Russian citizen Rakhamim Emanuilov are co-owners of two Ukrainian companies: CJSC Interpromfinance Ukraine and LLC M.E.P. Emanuilov is a historian, businessman and old acquaintance of Yermak's father (during Soviet times they had worked together in Afghanistan). He is also a co-owner of Interpromtorg, the company that founded Interprombank. The largest shareholder of Interprombank is Valery Ponomarev, a member of the ruling United Russia political party and "the richest Russian senator" (according to Russian media) in the Federation Council (the upper chamber of the Russian parliament) from Kamchatka Krai (Radiosvoboda.org, October 3, 2019). According to an investigation by anti-corruption activist Alexei Navalny, Putin's grand mansion in La Zagaleta (a luxurious resort near Marbella, Spain) is allegedly registered under the ownership of Ponomarev's daughter company (Navalny.com, January 13, 2015).
Another shareholder of the same bank co-owned by Yermak's Russian business partner is Ivan Sadchikov, the son-in-law of Sergey Prikhodko, the first deputy chief of the Government Staff of the Russian Federation and friend of Russian aluminum magnate Oleg Deripaska. Apart from that, Emanuilov is close to Zarakh Iliev, a Russian billionaire nicknamed the "Real Estate King." The secret of Iliev's success, according to many experts, is that Ilgam Rahimov (one of the most powerful persons in Russia and Putin's fellow student and personal friend) partners with him on many of Iliev's projects (Realist.online, February 11). Also, through his business ties, Illiev has links to Alexey Rogozin, the son of Dmitry Rogozin (the pugnacious director general of the state space corporation Roscosmos and a former deputy prime minister of Russia in charge of the defense industry) (Rucompromat.com, September 13, 2019). Moreover, according to Yermak's income declaration, he is a shareholder in Interpromfinance Ukraine and Interpromfinance-Security (Ukranews.com, February 16). Former Ukrainian company LLC Sarych, registered in Crimea, is a co-owner of Interpromfinance-Security. A year ago, people close to other important friends of Putin, Gennady Timchenko and Arkady and Boris Rotenberg, became the owners of Sarych (Censor.net.ua, November 23, 2019).
All these revelations raise an important question: given Yermak's visible rise to prominence, how might his business and personal ties in Russia influence or impact Ukraine's national security and the country's future development? For now, it remains unclear whether this appointment will actually enable Moscow to more easily forge its interests in Ukraine (jeopardizing Ukraine's national security). At the same time, it is difficult to predict whether Yermak's important new role in the presidential office will actually help Kyiv resolve some of its most burning issues involving Moscow.