A Year in Review: More Problems, More Reforms, More Cooperation for Central Asia in 2017
Publication: Eurasia Daily Monitor Volume: 15 Issue: 4
By: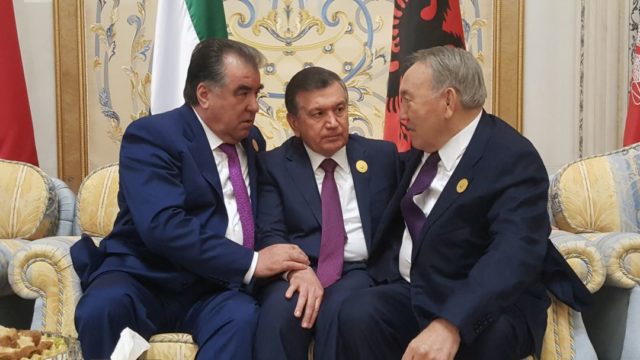 Central Asia in 2017 recalls Charles Dickens' observation in A Tale of Two Cities: it was truly the best of times, if far from perfect, and the worst of times, if far from disastrous. And depending on whether one focuses on the problems the five regional countries (Kazakhstan, Kyrgyzstan, Uzbekistan, Tajikistan and Turkmenistan) face, or instead emphasizes examples of reforms passed last year as well as increased intra-regional cooperation, including with the Russian Federation, one would be driven to draw dramatically different conclusions.
The problems are all too obvious: The region's population continues to surge and passed 70 million this year (Inform.kz, January 9, 2017), almost 20 million more than in 1991; but many of its people are incredibly young, putting real strain on the economies and political systems there. In Tajikistan, for example, more than 70 percent of the population is under 30, a recipe for political instability. Foreign investment and transfer payments from guest workers employed abroad either stabilized or fell in most of the Central Asian republics; and as a result, the economies of the five grew but at a rate less than did their populations. Chinese investment increased as well, both a positive development and a matter of concern for these governments and Moscow (see EDM, May 17, 2017; May 24, 2017; November 17, 2017). Threats from Islamist groups in Afghanistan and from the return of Central Asians who had gone to the Middle East to fight for the Islamic State increased the foreign and domestic security threats these countries faced, prompting some to take draconian steps to try to defend order (see EDM, March 15, 2017). And the brittle authoritarianism of the regimes across the region, especially in Turkmenistan but also in Kazakhstan and Tajikistan, was showing signs of cracking almost everywhere, with the use of repression becoming increasingly counterproductive, driving more people into radicalism rather than dissuading them from opposing the regimes.
But more positive developments of the past year are also noteworthy. The new president of Uzbekistan has restarted regional integration efforts by his constant travels and talks with the leaders of the other countries, raising the possibility that they will be able to cooperate not just on security with each other but on also on trade and water-sharing. Moreover, he has haltingly moved to reform his own country, opening up the media, producing more accurate statistics, and freeing Uzbekistanis from some of the most burdensome policies of his predecessor; he has even called for the reform of the country's thuggish security agency (see EDM, September 12, 2017). Moreover, Kyrgyzstan became the first Central Asian country to change leaders by elections rather than revolution or the death of an incumbent (see EDM, October 18, 2017); and despite instability there, the Kyrgyz Republic's achievement may become a model for others. Meanwhile, Kazakhstan, despite the continuing presence of an aging Soviet-era holdover at the top, not only increased its presence internationally but also ended the year nearly conflict free. The only real exceptions were Kazakhstan's brief clash with Kyrgyzstan after Nursultan Nazarbayev met with an opposition Kyrgyz presidential candidate (see EDM, September 27, 2017; October 18, 2017; December 7, 2017) as well as the objections of Russians and Russia to the Kazakhstani president's long-standing plans, now being implemented, to shift his Turkic republic from a Cyrillic-based alphabet to the Latin script (see EDM, April 25, 2017).
But just as the average temperature of all the patients in a hospital is not a good indication of the state of health of any one of them, so too the differences among the five countries in this region remained striking in 2017. Notably:
After a year of relative stability, Central Asia may experience a more difficult 2018 for three reasons. First, one or more of the remaining Soviet-era leaders may pass from the scene. Second, the optimism in Uzbekistan may collapse into anger if the regime does not move forward far or fast enough. And third, the terrorist threat, especially in Tajikistan, Turkmenistan and Kyrgyzstan, may dramatically increase, with Islamists infiltrating these countries from Afghanistan.